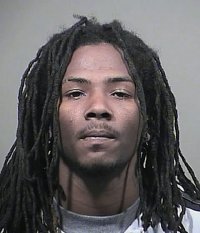 Alexander King, Jr., 22, of Waldorf, was arrested as the fifth suspect in the Feb. 27 robbery of a citizen outside McDonalds on Mall Circle Drive. (Arrest photo)
LA PLATA, Md. (April 28, 2010)—Charles County Sheriff Rex W. Coffey said detectives assigned to the Criminal Investigations Division recently identified a fifth suspect involved in a citizen robbery that occurred outside McDonald's on Mall Circle Drive on February 27. Four other suspects, Jacori Rashaad Graham, 19, of La Plata; Anthony Lamont Cooper, 19 of Lanham; Amber She-Brea Muse, 18, of Clinton; and David Earl Howington, 17 (charged as an adult), of Landover, were arrested by patrol officers two hours after the robbery occurred.
After the initial arrests, detectives continued working leads and subsequently identified Alexander King, Jr., 22, of Waldorf, as the fifth suspect in the case. On April 7, King was arrested in Waldorf by members of the Charles County Sheriff's Office Warrant Fugitive Squad.
The investigation also led to a significant development in an unrelated robbery. During the initial stage of the February 27 investigation, detectives obtained a search warrant for the suspects' car and found a cell phone in the purse of Amber Muse. A computer check revealed the phone was stolen during a robbery outside Club Icon in Waldorf. In that case, two people were robbed of their coats and cell phones by two males. Detectives have identified a potential suspect in that case and are continuing to follow leads.
Sheriff Coffey said the recent arrest is the result of the Agency's commitment to solving crimes. "We never stop. Sometimes it could be months down the road before we develop additional information, but as long as the case is open, we are committed to pursuing each and every lead."
King was charged with armed robbery, use of a handgun during a felony, first-degree assault, and theft and remanded to the Charles County Detention Center.