By ADAM KERLIN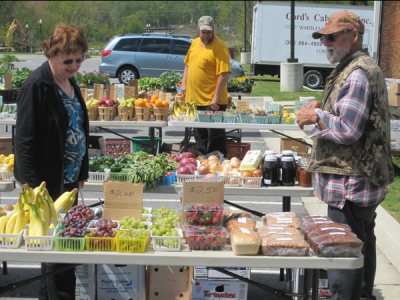 Charles Bowling, far right, has been selling his produce to La Plata residents for 30 years. Bowling, 70, is the only farmer with a year-round commitment to the market (Photo: CNS)
LA PLATA, Md. (April 28, 2010)—The farmers' market has been a part of La Plata's community for 33 years, and Charles Bowling has been a vendor since the start.
Located in the center of town, the relatively small market fits the rural community well. With just eight to 10 vendors during the peak summer months, Bowling has become an established figure within the community.
He knows almost all of his customers by name, and is there so often that some of his regulars say they would worry if Bowling missed a week.
Because of his long history at the market—and the convenience provided by his familiarity with it—Bowling chooses not to expand to Maryland's rapidly growing farmers' market community.
But unlike Bowling, many Maryland farmers are taking advantage of the growing number of farmers' markets across the state.
The Maryland Department of Agriculture lists 103 local Maryland markets in its 2010 farmers' market directory, up from 83 in 2008. And while Bowling chooses not to capitalize on the rapid growth, he admits statewide expansion has been good for farmers.
"Gotta have some place to sell," Bowling said. "A lot of people want to go to the market."
The expansion of markets around the state has made it easy for vendors to move from market to market, a practice often referred to as following the "circuit," enabling them to build clientele and sell more frequently.
Brenda Conti, the coordinator for the Anne Arundel County Farmers' Market, said it almost always fills its 44 vendor spaces. Conti said the market, which has been open for 29 years, attracts vendors selling everything from agriculture to baked goods and crafts.
The growth of markets and demand for spots was even taken up this year by the Maryland General Assembly, which passed a bill prohibiting local jurisdictions from requiring a food sale license for some raw agricultural products. The bill alleviates licensing costs that build up for farmers selling produce at markets across the state.
But for Bowling, 70, who was just 37 and a new La Plata resident when he began selling fresh produce and flowers in the Charles County Courthouse's parking lot, multiple licenses have never been an issue. He has stuck solely to the courthouse parking lot in La Plata, playing an instrumental role in keeping the market running by doing so.
The La Plata Farmers' Market is one of few statewide that remains open year-round, in part due to the Bowlings' dedication. Bowling says he's the only vendor at the market late in the fall and throughout the winter, staying in business by selling his wife's baked goods and homemade jams, in addition to some imported fruits.
Bowling feels an obligation to the loyal attorneys, judges and community members who regularly visit during their Wednesday and Saturday lunch hours, which personally deters him from following the expansion trend.
"Why leave my regular ones to look for new ones," Bowling said of his customers. "That don't make sense."
But many vendors are using the expansion of farmers' markets to start and grow businesses.
One example is 42-year-old Eric Price, who is in his second year of selling kettle corn at the La Plata market. He's one of the first vendors to join the Bowlings in the courthouse parking lot when the weather warms up in April, and one of the most consistent visitors throughout the summer season.
"If I want to set up here, if I want to set up in St. Mary's County, if I want to take the day off, that's our business," Price said.
Prior to popping corn for a living, Price worked more than 10 years as a trucker before a loss of interest and medical conditions took him off the road. He said his mother initially called him crazy for depending on such an uncertain source of income for his livelihood, but after two years of making a $5 profit off every $6 bag of popcorn he sells, he says he's doing fine.
Price runs a simple business, consisting of a portable kettle that he built with his brother and the few ingredients needed to make kettle corn. He currently works under a popup tent with portable tables, but hopes to buy a truck and increase his offerings to ice cream and other snacks.
"I've had more shows in the last two months than I had all last year," Price said. "You make pretty good money out of it."
Price's priority is with his regular customers at the La Plata market, but he continues to add markets and events to his schedule. Price has worked the Charles and Cecil county fairs and he's scheduled to work the infield at this year's Preakness.
"I like the freedom," Price said. "It's your own ideas, your own stuff. That's what America was born on, entrepreneurs."
Capital News Service contributed to this report.