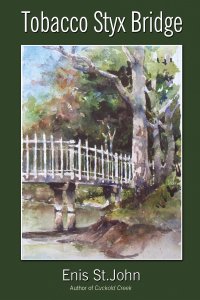 CSM President Emeritus Dr. John Sine will be discussing his second novel "Tobacco Styx Bridge," May 7 at CSM's La Plata Campus.
LA PLATA, Md. (April 27, 2010)—The former president of the College of Southern Maryland, Dr. John Sine, had a vision that the college would be a conduit for bringing the arts to area students and residents through theatrical productions, musical entertainment, art shows and literary events. Little did he know he would be part of that vision after his retirement.
"What I wanted was for the college to have influence in the artistic life of the community. So we began to do better, larger shows in the theater, we began to produce musical events and we had famous performers come in," Sine said in a recent interview. "At the time, the student body was still growing, and to tell you the truth, if you are going to produce meaningful stuff, the student body has to be large enough to support that. You have to have people who want to try acting, want to read poetry, want to write short stories. This [college] has to be the place that encourages that."
Now, no longer a college administrator grappling with budget issues and staffing to advance the arts at CSM, Sine has the time to devote to literary endeavors of his own.
One of those endeavors is a trilogy of novels set in a loosely fictionalized Southern Maryland community-with a college. Following his first novel, "Cuckold Creek," Sine's protagonist Dean Charles Abell returns to a mounting financial crisis that threatens to shut his beloved institution. If the tension of professional doom and gloom isn't enough, the central chapters follow Abell as he uncovers--and is haunted by--his ancestors' link to a lynch mob killing in the Port Tobacco Valley during the 1800s.
Sine reminds readers that this is a work of fiction, though the characters and landscape are unmistakably drawn from his personal experiences. "I'm not sure about the genre of this novel," Sine said. "It's not historical fiction, although it does draw from actual historical events."
Sine took an event recorded in newspapers from the 1890s and changed the names of people and places for his literary purposes.
The idea of weaving the past with the present in his second novel evolved from a painting Sine has hanging over the fireplace mantle of his home. One day, a visiting aunt recognized the painting as that of a house where two women had been murdered during her childhood. From that recollection, Sine sought the help of Dr. James Gibb of the Port Tobacco Archeological Project. "Although we could not positively confirm that the painting was a depiction of the actual house [where the murders took place], it was in the vicinity and that was good enough for my fictional account," said Sine.
"The report of the murders led me to a newspaper story that linked the murders with the lynching of a man at the bridge, and that, in turn, led me to an illuminating paper written by Dr. [Christine] Arnold-Lourie, professor of history and the College of Southern Maryland. The book was stimulated by historical truth, embroidered by the imagination, and hopefully will engage the reader," said Sine.
Once the creative process is finished, according to Sine, the business of book publishing begins. As a self-published author, Sine is writer, agent, publisher, publicist, business manager and salesman and he understands why so many famous authors appear to be a little 'distant.' "Creative writing is an engaging solitary pursuit that takes you from normal social contact. It creates a tension between the need to go about the chore of living a daily life with others, and the compulsion to spend time creating fictional 'others' that people want to read about," Sine said.
Sine is 'diddling' with his third book in the series. As with "Cuckold Creek," and "Tobacco Styx Bridge," it will be published under the name Enis St. John, a pen name he chose, "in case it turned out to be a bomb," he said.
Sine will be center stage when he presents a book discussion and signing of "Tobacco Styx Bridge" beginning at 7 p.m., May 7 in the Learning Resources Building, Room LR-102, La Plata Campus. The event is free. Copies of the book can be purchased in advance from the college bookstore or that evening. A portion of the proceeds from the sales of Sine's book will go to the CSM Foundation to fund the Fanny Louise Sullivan Sine Henderson Scholarship fund for single parents in need of financial aid, named for Sine's mother.
Students interested in this scholarship or other scholarships available at CSM should register at
https://scholarships.csmd.edu/stars/.