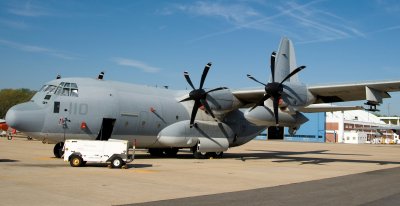 The prototype Harvest HAWK weapons systems equipped KC-130J sits on the ramp in front of Air Test and Evaluation Squadron 20 (VX-20) here." U.S. Navy photo by Liz Goettee.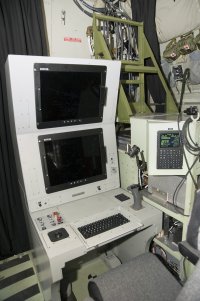 The Fire Control Console mounted on a standard cargo pallet in the KC-130J's cargo compartment." U.S. Navy photo by Liz Goettee.
NAVAL AIR SYSTEMS COMMAND, PATUXENT RIVER, Md. (April 26, 2010)—The Harvest HAWK equipped KC-130J Hercules completed Phase One testing here on Apr. 10 and departed for the West Coast for required maintenance and to continue testing on NAVAIR's ranges at China Lake, Calif.
Harvest HAWK is a modular roll-on, roll-off weapons system for the KC-130J consisting of a Fire Control Console in the aircraft's cargo compartment, the Target Sight Sensor (TSS) mounted in the left under wing fuel tank and a launcher for four Hellfire missiles mounted on the left hand refueling pylon.
NAVAIR is working a complimentary effort to test and deploy the Standoff Precision Guided Munition (SOPGM) as a stand alone capability for Harvest HAWK. The 30 mm cannon, which will be mounted in the left side troop door, has been deferred to a later block upgrade.
The Test Team, composed of personnel from Air Test and Evaluation Squadrons 20 (VX 20) and 23 (VX-23), Operational Test Squadron 1 (VX-1), Marine Aerial Refueler Transport Squadron 352 (VMGR-352), Lockheed Martin, and engineers from the Joint Attack Munitions Systems (JAMS) project office, NAVAIR AIR-5.1 Integrated Systems Evaluation, Experimentation, and Test (ISEET) department, and NAVAIR AIR 4.6 Human Systems department, conducted the tests during this phase of Harvest HAWK testing.
The Harvest HAWK equipped KC-130J from VMGR-352, "The Raiders" from Marine Corps Air Station Miramar, Calif., arrived here on Mar. 17.
The first Harvest HAWK equipped KC-130J is scheduled to deploy by summer 2010 equipped with the TSS, Hellfire and SOPGM.
Source: NAVAIR