By JENNIFER HLAD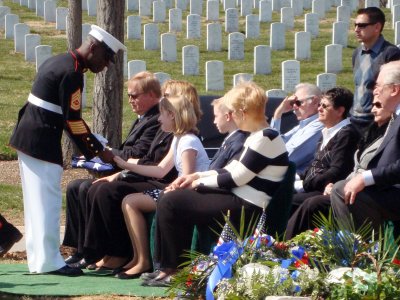 Gunnery Sgt. William J. Dixon, the Marine Corps funeral director, comforts the family of former Marine Sgt. Michael Isky during Isky's funeral, March 19. (Photo: Jennifer Hlad)
ARLINGTON, Va. (April 22, 2010)—Six burly Marines wait in the sun as Gunnery Sgt. William J. Dixon parks his government minivan at Arlington National Cemetery. The Marines rode over in a bus, standing so they wouldn't break the crease in their starched white trousers.
On this warm March day, the ninth anniversary of the beginning of the war in Iraq, these Marines will carry the flag-draped caskets of two of their fallen brothers. Then, the body bearers will neatly fold the flag and give it to Dixon.
As he kneels before the grieving mother, wife, father or son—the folded flag in his hands—Dixon will look into her or his eyes and speak slowly, emphasizing each word.
On behalf of the President of the United States, the commandant of the Marine Corps, and this grateful nation, please accept this flag as a symbol of your loved one's dedication to his country and his Corps.
Presenting that flag is one of the most difficult things a Marine ever has to do. Dixon does it 800 times a year.
Dixon, 38, is the funeral director for Marine Corps Barracks Washington. For four years, he has directed every Marine funeral—retired, veteran and active-duty—in the Washington region. He has buried congressmen, generals and Medal of Honor recipients. He has buried veterans of Guadalcanal, Iwo Jima, Chosin, Hue City and Fallujah. He has buried Marines he served with and Marines half his age.
It's a job Dixon says he was born to do.
Dixon has been around funerals his whole life. His father's family has been in the business for more than 50 years, and he said he "always dreamed of being a funeral director."
"I grew up in church. And in the black community, a funeral home is very closely connected to the church," Dixon said. "This is something that interested me, to bring a spiritual side to the funeral business. ... Me being a godly young man growing up, I felt that this was my calling."
Dixon is the only person in his family to have served in the military. On the first day of high school, his homeroom teacher asked the students to write what they wanted to be when they grew up. Dixon wrote "funeral director and Marine."
But it was his wrestling abilities that initially caught the eyes of recruiters. Dixon joined the Marine Corps shortly before Operation Desert Shield as a motor transport operator and a member of the All-Marine Wrestling Team.
Dixon's family didn't have the money to send him to school for his mortuary science degree, so he figured he could wrestle and earn money for college as a Marine.
But he also felt the pull of what Marine recruiters call "the intangibles." Brotherhood. Adventure. Discipline. Honor. Courage. Commitment.
Less than two years after enlisting, Dixon deployed to Kuwait with Marine Wing Support Squadron 273, the Sweathogs, out of Marine Corps Air Station Beaufort, S.C. His unit supported the helicopters that brought in troops, artillery and ammunition.
"I was a kid; it was scary," Dixon said. "We were the closest wing unit to the battlefield in history."
Other deployments would follow, including one to Norway, where he earned an Arctic Service Ribbon and a few to Korea when he was stationed in Okinawa, Japan. He took online classes on nights and weekends, and earned his mortuary science degree in 1997. In January 2003, he went back to the Persian Gulf, leading reserve Marines from 6th Motor Transport Battalion into battle in Iraq.
"Shock and awe" began in March of 2003. President Bush declared victory that May. Dixon returned home in July, knowing that troops were still engaged in ground combat and "victory had not been accomplished."
Two years later Dixon returned to Iraq, this time with 2nd Combat Logistics Battalion. He was in charge of combat airfield operations at Al Asad air base. At the end of his tour, he heard the Marine Barracks was looking for a funeral director.
Now, Dixon coordinates and directs all Marine funerals in the capital region, including those at Arlington National Cemetery and the U.S. Naval Academy. He also coordinates funerals in other parts of the country for generals, Medal of Honor recipients and other dignitaries.
On a typical day, Dixon wakes before dawn at his home in Laurel and works out at 4:30 a.m. The 5-foot-5-inch man with seemingly boundless energy gets through most of his day on bottled water, maybe an occasional Red Bull energy drink. Frequently, his only meal is dinner.
But one unseasonably warm Friday in March, he wolfed down a hamburger at his desk while burning through paperwork and dealing with a constant string of phone calls. Around noon, he changed into his often-worn, but immaculate, dress blue uniform and walked quickly to the van, bemoaning the lack of hours in the day.
"I feel like a quarterback going to the Super Bowl," said Dixon, who grew up near Indianapolis and wears a silver Colts horseshoe ring with his uniform. "Every one of these funerals, I have to get my heart and mind prepared."
Sometimes there are six funerals in a day. This day, there were two.
The first was Sgt. Michael Isky. He served in World War II and Korea, seeing action in Guadalcanal and Chosin. He was 88.
Two hours later was Lance Cpl. Eric Ward. He joined the Marine Corps in July 2008 and deployed to Afghanistan in October 2009. Ward died Feb. 21 in Helmand province. He was 19.
Isky's funeral was a standard ceremony, with a bugler, firing party, the body bearers and color guard. Because Ward was killed in combat, his family had the option of a full honor burial. For that type of ceremony, a Marine's flag-draped casket is taken to the gravesite by a horse-drawn caisson. A platoon of ceremonial marchers and "The President's Own" Marine band leads the procession.
Part of Dixon's job is to determine where the march will start. He wants to make sure it is long enough to honor a Marine killed in combat. Ward was a young enlisted Marine, and these ceremonial marchers represent the platoon he served with. Dixon works out a route about a quarter mile long.
"We'd march around the world for this Marine," Dixon said. "I want him back. But he's with God."
Members of the Patriot Guard Riders, a motorcycle group, have gathered near the site to honor the young Marine. They stand at attention and Dixon salutes as the body bearers lift the flag-draped casket high into the air, then place it down gently.
The Marine band plays "Eternal Father, Strong to Save" as the body bearers carefully fold the flag into a triangle. Family members wipe away tears.
Dixon takes the flag and presents it to Ward's father. Then he takes another, places it gently on the casket, and presents it to Ward's mother.
Secretary of Defense Robert Gates pays his respects to the family as the ceremony ends. The family and friends slowly move toward the road, but one young Marine stops and bends at the waist, overcome with grief. Another young man comes and embraces him, and they stand like that for a few seconds, supporting one another.
Dixon is walking back to his van.
"Another warrior laid to rest," he says quietly.
Dixon has done more than 3,000 funerals in his four years as funeral director. Most are retired Marines. About 1 percent are active-duty Marines.
Cpl. Lorenzo Williams, a body bearer, has been carrying Marine caskets for three years. Body bearers are selected straight out of boot camp for their height and strength, but they lift weights together for two hours every day to ensure they will be able to lift and carry the caskets—which can be 600 or 700 pounds, he said.
"This job as a whole is very stressful," Williams said. "Gunny Dixon, he makes everything run smoothly. ... He keeps us going. If he sees us slipping at all, he'll let us know. But he does it in such a way that you want to give him all you have."
While the normal tour of duty is two to three years, Dixon has asked to stay on indefinitely.
"There's no greater honor in the Marine Corps than what I do, because it's not about me, it's about serving our families," he said. "My passion is people. I enjoy taking care of folk. And death is the most vulnerable time in someone's life."
Master Sgt. Christopher Walker filled in for Dixon when he had to go out of town for a family emergency. Dixon had done all of the preparatory work, Walker said, but he had to go to Dover Air Force Base to receive the remains coming in from Afghanistan and present the flags at the funerals. It was especially hard for Walker, who had recently served in Afghanistan and recognized some of the names.
"I don't know how Dixon does it, but he does it every single day," Walker said.
Dixon has buried several Marines he has served with. But the January death of Pfc. Darius Ray was "really a heart-touching case," he said.
Ray, of Potomac, was new to the Washington Marine barracks. At 6 feet, 5 inches, he stood a full foot taller than Dixon. The "humble young man with an inquisitive mind" had been selected to be a member of the elite Marine Corps color guard. Once he finished training, he would have been part of the group that carries the flag at Dixon's funerals.
But a few days after his 20th birthday, Ray was stabbed to death at a house party in Baltimore. Three men have been charged with first-degree murder for his killing.
Dixon said Ray's death hit the Marines hard because it was so shocking—and because he died not on the battlefield, but "in peaceful times, on peaceful soil."
"I'm not immune to pain. I feel pain, I feel sadness, I feel hurt, I feel guilt, I feel sorrow," Dixon said. "A lot of times we Marines have to lean back and remember, and execute our training. Because I have to put myself in the position of the family. I would want someone to assist me in my hour of need, so that makes me stronger to be able to assist these families in their time of need. There have been times when a tear has fallen, yes, but I classify tears as liquid prayer. But my burying will be impeccable."
Shortly before Gen. Peter Pace retired, the then-chairman of the Joint Chiefs of Staff spoke at a Memorial Day service at Arlington National Cemetery. Afterward, he walked with Dixon through the rows of gravestones in Section 60, where Iraq and Afghanistan casualties are buried.
Pace told Dixon it "hurt his heart" that he was leaving office with more than 2,000 service members buried there, Dixon said.
"He looked at me and said, 'Don't ever take this job lightly,'" Dixon said. "And I don't."
Capital News Service contributed to this report.