Nitze Lecture is April 27 at SMCM in St. Mary's City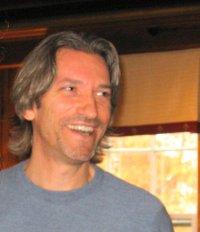 African expert and human rights activist John Prendergast gives talk at SMCM April 27. (Submitted photo)
ST. MARY'S CITY, Md. (April 21, 2010) — Longtime African human rights activist John Prendergast will give his third and final public lecture as the St. Mary's College of Maryland 2009-2010 Nitze Senior Fellow by defining the glimmers of hope in this large troubled continent. The lecture will be at 8 p.m. Tuesday, April 27, 2010, at the college's Daugherty-Palmer Commons.
Entitled "Persistence in Human Rights Work: Reasons for Hope about Africa's Trouble Spots," Prendergast will talk about how to combat hopelessness about Africa's crises by discussing actual accounts of transformation from war to peace in Africa. His talk will show that people's movements have made a difference in supporting peace in Africa.
Prendergast has passionately fought for many years to end genocide and other crimes against humanity in Africa, particularly in the countries of Sudan and the Democratic Republic of Congo (DRC). Recently on "60 Minutes" and often quoted in national media, Prendergast was director of African Affairs at the National Security Council during the Clinton years and special adviser at the Department of State. He authored eight books on Africa, including New York Times bestseller Not on our Watch: The Mission to End Genocide in Darfur and Beyond, and co-founded the Enough Project in 2007 to promote peace. He travels regularly to Africa's war zones on fact-finding missions, peace-making initiatives, and awareness-raising trips.
Each year, St. Mary's invites an accomplished writer, journalist, or other professional figure to be the Nitze Senior Fellow and to make several visits to the campus to give lectures and meet with classes. Last year, former Washington Post correspondent T.R. Reid was the Nitze Fellow. Other previous Fellows include Kathleen Kennedy Townsend, former lieutenant governor of Maryland; David Sanger, the New York Times chief correspondent for the White House; and Pulitzer Prize-winning author Edward P. Jones.