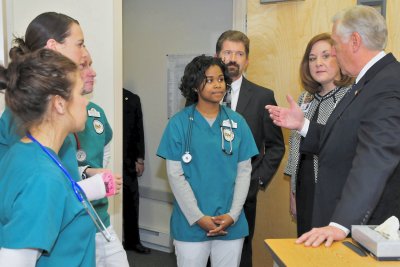 Congressman Steny Hoyer, right, talks with fourth-semester nursing students who participated in the Clinical Simulation Lab demonstration, from left, Christine Upright, Heather Brady, Phillip Wentz and Brittany Jae Bolden. They were joined by V.P. of Calvert Memorial Hospital Robert McWhirt and President and CEO of St. Mary's Hospital Christine Wray. (Submitted Photo)
LA PLATA, Md. (April 20, 2010)—Nursing faculty and students demonstrated the College of Southern Maryland's newest healthcare training asset, the Clinical Simulation Lab, during a celebration that brought key partners and dignitaries to the James C. Mitchell Center for Health and Technology on the La Plata Campus on March 31. Among those present to observe and comment on the use of this high-fidelity simulation lab were Congressman Steny Hoyer and Maryland Hospital Association Vice President Dr. Catherine Crowley, as well as other community healthcare partners, federal, state and local representatives, and college officials.
Interim Chair of Health Sciences Division Laura Polk and Associate Professor and Clinical Simulation Coordinator Mary Fey described the capabilities of the lab and the demonstration scenario. The patient manikins have a pulse, can replicate breathing and can talk, said Fey in preparing guests for the simulation demonstration.
"This is what it's all about," Congressman Hoyer told event guests as he acknowledged the four CSM nursing students who would be participating in the Clinical Simulation Lab demonstration—Brittany-Jae Bolden, Heather Brady, Christine Upright and Phillip Wentz. "If we don't have Brittany, Christine, Phillip and Heather and all of their colleagues ready to go into nursing, going to be physicians, going in to be researchers, going in to be technicians, frankly, our investment [in healthcare] will not pay off. Because, ultimately, it is people that we rely on."
During the demonstration, fourth-semester nursing students assembled in the on-campus mock hospital room where they listened to 'Mrs. Shapiro' describe pressure and heaviness in her chest and pain in her back and left arm.
Mrs. Shapiro is a high fidelity patient manikin given life and voice by CSM Lab/Media Coordinator Linda Goodman, RN, and the newly dedicated Clinical Simulation Lab. Behind one-way mirrors in a room adjacent from Mrs. Shapiro's, a large split-screen television shows two camera angles of the simulation room, a microphone broadcasts the voice of Goodman as Mrs. Shapiro and a speaker allows Goodman to hear the interactions within the patient's room.
A computer controls and displays Mrs. Shapiro's vital signs and a joystick manipulates bedside cameras to pan out, tilt and zoom in close enough to see the marks on syringes for monitoring dosages of drugs being given and to see the infusion rate programmed on IV pumps, according to Fey. Further, the entire exercise is recorded so that students can later watch and critique their performance.
For the demonstration, the CSM students began methodically assessing Mrs. Shapiro's vital signs, medical history and level of discomfort as they consulted with the hospital lab and her physician by phone. They administered a nitroglycerine drip, and stabilized her drop in blood pressure and a shortness of breath. After a few minutes of precisely choreographed interactions with their patient, the tense moments subsided and Mrs. Shapiro was asked if she wanted to see her husband.
"It puts you into actual nursing mode," said fourth-year nursing student Phillip Wentz of California. "When you are in clinical at a hospital, you are still observing. With the lab, you get to be that person in charge. It puts that weight on your shoulders." After graduating with his nursing degree this spring, Wentz is interested in becoming a pediatric nurse.
"We want to see [CSM] to do as much as possible to get nursing students ready before they arrive at a hospital," Crowley said. "This is going to prep you big time," she said to the nursing students in attendance.
There are situations that nurses will see every day and there are situations that nurses may not see for months, Crowley said. This simulation equipment allows nursing faculty to provide a wide range of scenarios to students, she said.
"We can teach diabetes on one day and have students care for a hypoglycemic patient the next day," Polk said in describing the benefits of the simulation lab.
"I assumed that a nurse graduates, gets a job at a hospital and then begins working and it is not that way," said CSM President Dr. Brad Gottfried. "They have to be mentored for many, many months. If we can cut down the time of that mentoring period, the hospitals are going to be better off and the patients are going to be better off too-that's what this [Clinical Simulation Lab] is all about."