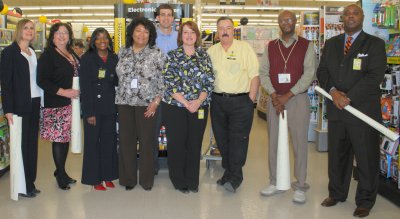 Seven Charles County public schools, in addition to several county private schools, received $3,000 grants through Dollar General's Literacy Foundation program. Pictured, from left, are J.C. Parks Elementary School Principal Kristin Shields, Mt. Hope/Nanjemoy Elementary School Vice Principal Diane Laveglia, General Smallwood Middle School Principal Cynthia Baker, Indian Head Elementary School Principal Toni Melton-Trainor, Jackson Routh, Community Initiatives Manager for Dollar General, Gale-Bailey Elementary School Principal Carrie Richardson, Bill Black, Bryans Road Dollar General store manager, Garland Foreman, administrator of Potomac Heights Christian Academy, and James Short, principal of Henry E. Lackey High School. (Submitted photo)
LA PLATA, Md. (April 20, 2010)—Seven Charles County Public Schools recently received $3,000 grants from Dollar General's Literacy Foundation program.
Gale-Bailey, Indian Head, J.C. Parks and Mt. Hope/Nanjemoy elementary schools, General Smallwood and Matthew Henson middle schools and Henry E. Lackey High School received checks for the funds at a presentation ceremony held Wednesday, March 24, at the Bryans Road Dollar General store.
The program is funded through store donations and the Bryans Road store collected more than $30,000 in 2009. These Charles County public schools were chosen as grant recipients because they are located in the Bryans Road and Indian Head areas.
The grants will support literacy and education initiatives and are given in recognition of the Bryans Road store's support of the Dollar General Literacy Foundation. For the fifth consecutive year, the store ranks as the Foundation's top 2009 fundraiser through in-store donations.
Dollar General launched the Literacy Foundation program in 1993 and has donated more than $27.6 million in grants to nonprofit organizations. For more information on other literacy programs supported by Dollar General, visit their Web site at www.dollargeneral.com.