Warrant Obtained for Suspect's Girlfriend; Reward Offered for Information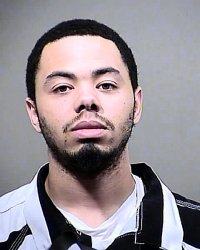 Darnell Laquay Proctor, 22, of Charlotte Hall, is wanted in connection with the April 14 shooting death of Raymond Anthony Barnes, Jr., 34, of Lexington Park.
LA PLATA, Md. (April 19, 2010)—Charles County Sheriff's investigators are continuing their search for homicide suspect, Darnell Laquay Proctor, 22, of Charlotte Hall, who is wanted in connection with the shooting death of Raymond Anthony Barnes, Jr., 34, of Lexington Park.
On Wednesday, April 14, at 4:43 p.m., officers responded to the 12200 block of Plater Road in Charlotte Hall for the report of a shooting. When officers arrived, they observed Mr. Barnes lying in the roadway suffering from an apparent gunshot wound. Officers A. Sullivan and D. Behm performed CPR until paramedics arrived. Mr. Barnes was transported to a nearby hospital where he was pronounced dead.
The preliminary investigation by police revealed that Barnes and several acquaintances drove up to a house on Plater Road. The suspect, Mr. Proctor, was inside the house. For unknown reasons, Proctor retrieved a rifle, went outside and began arguing with the group who were seated in their car. During the argument, Proctor fired at the vehicle several times, striking Mr. Barnes. The car drifted away from the house and the occupants fled. Barnes collapsed near the intersection of Budds Creek Road and Plater Road.
Immediately after the shooting, Proctor fled the scene in a car driven by his girlfriend, Azsha Dayne Butler, 21, of Charlotte Hall. The car was recovered later that day but neither Proctor nor Butler has been seen since.
Investigators have obtained an arrest warrant charging Butler in connection with this case. Butler is a black female, 5'5", 140 lbs., with brown hair and brown eyes.
An arrest warrant is already on file charging Proctor with first-degree murder, first-degree assault, second-degree assault and reckless endangerment. Proctor is 5'7", 140 lbs, with black hair and green eyes. He may be armed with a gun.
Proctor has an extensive criminal record, especially considering his age.
Proctor was found guilty of possessing alcohol while under the age of 21 in a June 6, 2006 incident.
Proctor was arrested on October 13, 2006 for charges related to the distribution of illegal drugs to which he pled guilty. Other charges, including posession of illegal drugs and use of a firearm in a drug trafficking crime, were dropped.
Proctor served two days with 28 days suspended for having a handgun in a vehicle on April 12, 2007.
Burglary and theft charges were dropped against Proctor in a May 24, 2008 arrest.
Several charges related to possession and distribution of illegal drugs were dropped between 2006 and 2008.
Police are asking anyone with information about Proctor and Butler's whereabouts to call 9-1-1 or Detective S. Fetterolf at 301-609-6497. Callers wishing to remain anonymous may contact Crime Solvers at 1-866-411-TIPS or Text CHARLES + your tip to CRIMES or visit www.ccso.us to submit a web tip. Charles County Crime Solvers offers cash rewards of up to $1,000 for information that leads to an arrest or indictment.