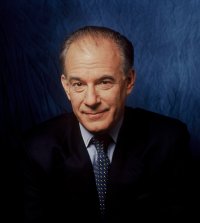 Washington Post columnist David Ignatius will visit St. Mary's as the Bradlee lecturer April 16. (Photo: Barry Myers)
ST. MARY'S CITY, Md. (April 13, 2010)—Acclaimed Washington Post journalist David Ignatius has been chosen to give this year's Bradlee Lecture at 8 p.m. Friday, April 16, 2010, in Auerbach Auditorium at St. Mary's Hall, St. Mary's College of Maryland. The lecture, entitled "How to Make the 'Long War' Shorter: Some Thoughts from a Journalist's Notebook" is sponsored by The Center for the Study of Democracy. The lecture is free and open to the public.
Ignatius writes provocative columns on global politics and economics twice a week for the Post and other media outlets. The Bradlee Lecture honors the First Amendment of the U.S. Constitution which guarantees freedom of speech and freedom of the press in American democracy, and is named after esteemed Post editor, trustee, and friend of St. Mary's College Ben Bradlee.
"David Ignatius brings tremendous experience in foreign-affairs reporting to the Washington Post, said Michael Cain, director of The Center for the Study of Democracy. "He is an astute observer of foreign policy and brings wide-ranging experiences from abroad to his columns. It is exciting to have him on campus."
Ignatius joined the Post in 1986 as editor of its Outlook section, and then served as foreign editor from 1990 to 1992 before becoming the Post's assistant managing editor in charge of business news. He continued to write after becoming executive editor of the Paris-based International Herald Tribune in 2000, and resumed writing twice a week for the op-ed page in 2003. Before joining the Post he worked for 10 years as a reporter for The Wall Street Journal, covering at various times the steel industry, the Justice Department, the CIA, the U.S. Senate, the Middle East, and the State Department.
His column has won the 2000 Gerald Loeb Award for Commentary, a 2005 Edward Weintal Special Citation, and the 1984 Edward Weintal Prize for Diplomatic Reporting.
Ignatius has written six novels, and is creator and co-moderator of Post-Global, an online conversation about international affairs at washingtonpost.com. Raised in Washington, D.C., Ignatius attended St. Albans School and Harvard College, where he graduated magna cum laude in 1973.
Past Bradlee speakers include Tom Brokaw, David Broder, Bob Woodward, Robin Wright, Richard Cohen, and Tony Kornheiser.