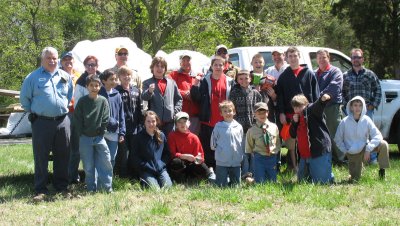 Scouts, their leaders, and Mirant staff who assisted with the Potomac River cleanup at the Morgantown power plant on Saturday. (Submitted photo)
NEWBURG, Md. (April 13, 2010) – On Saturday, Mirant's Morgantown electric generating station hosted a Potomac River cleanup supporting the 22nd annual Potomac River Watershed Cleanup of the Alice Ferguson Foundation. The annual cleanup is part of the larger Trash Free Potomac Watershed Initiative, which seeks to have the watershed trash free by 2013.
Joining the Mirant employees in the annual river cleanup were local area Boy Scouts from Troop 1321 and Pack 423. Together, the participants removed nearly 1,600 pounds of trash from the Potomac River. Some of the more interesting finds of the day were a boat cabin door, a bag of aquarium rocks, flip-flops, and life jacket. The most identified item was plastic wrappers from food snacks such as Little Debbie.
"Mirant is very proud to support the Alice Ferguson Foundation's annual Potomac Watershed Cleanup," said Director of External Affairs, Misty Allen. "Our employees enjoyed rolling up our sleeves working alongside these bright, young stewards of our community."
Cleanup results have been submitted to the Alice Ferguson Foundation to assist with the organization's statistical record of volunteerism and the amount of trash collected.