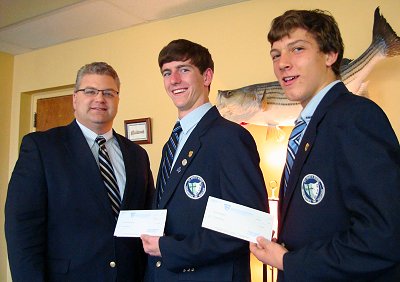 St. Mary's Ryken Principal Rick Wood (left) presents Brendan Walsh (center) and Zach Griffitt with the award checks from the Rotary Club of Lexington Park's annual "Four-Way Test" speech contest. (Submitted photo)
LEONARDTOWN, Md. (April 9, 2010)—Senior Brendan Walsh and junior Zach Griffitt from St. Mary's Ryken won two of the top spots in the Rotary Club of Lexington Park's annual "Four-Way Test" speech contest. Griffitt earned third place for his speech on the interrogation of terrorist suspects and Walsh won second place for his speech opposing the death penalty. Both received cash prizes from the Rotary Club and presented their speeches at the club's meeting on March 22.
The Rotary Club of Lexington Park hosts the annual contest for area high school students. The Four-Way Test refers to the questions that guide the Rotary in their service to the community and that Rotarians ask themselves before embarking on any endeavor: "Is it the truth, is it fair to all concerned, will it build good will and better friendships, and will it be beneficial to all concerned?"
Contestants can select any topic which they feel is timely, interesting and important. However, the topic must be specifically subjected to the Four-Way Test.
St. Mary's Ryken is a private, coeducational, Catholic secondary school sponsored by the Xaverian Brothers. Students come from many different counties across the region including Anne Arundel, Calvert, Charles, King George, Prince George's and St. Mary's counties. SMR offers a college preparatory curriculum. Although the majority of students are Catholic, a variety of religions are represented and all denominations are welcome.