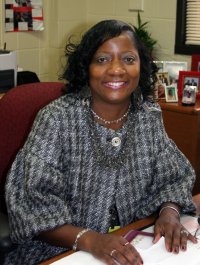 Cynthia Baker, General Smallwood Middle School Principal and Charles County Public School's 2010 Principal of the Year. (Submitted photo)
LA PLATA, Md. (April 9, 2010)—General Smallwood Middle School Principal Cynthia Baker is known as a change agent with a positive attitude and strong personality. It's that positive attitude, her Smallwood "family" says, that has caused enormous changes in community perception, student achievement and staff morale at Smallwood since Baker became principal four years ago.
Baker has a strong commitment to children, or her "babies" as she calls them, and that dedication has earned Baker this year's title of Charles County Public Schools Principal of the Year and the Washington Post Distinguished Educational Leader award.
While Baker says collaboration, team work and a sense of family has helped make her successful as a principal, her students, staff and parents say it is her passion for excellence, respect for others and school spirit that fuels their love for their principal. "Who has heels on every day, comes to school with a smile and loves us? If you are thinking of Mrs. Baker, then you are correct. You should choose Mrs. Baker as Principal of the Year because she is always organized, fair and loving," Sierra Beatty, a sixth-grade student, wrote in a nomination letter.
Sixth-grader Melissa Blevins agrees. She wrote, "Mrs. Baker is a kind, sweet, and caring person and loves all her students. She calls us her babies. We are like a big family here at General Smallwood."
"She ran the school with a kind and gentle hand that became quick and swift when it was time to make a tough decision. She is the model leader, someone who demanded your respect by the respect she gave others," former student Charlie Wright wrote.
Baker uses the Power of One to mobilize staff and students and to shift everyone toward working together for success. "Last year, we missed making Adequate Yearly Progress by 1.23 percent, which is equivalent to one person. Therefore, we decided to create a theme that reflects what happens when we become one, working together on one accord. We also want to send a very strong message that each one makes a difference and each one counts," Baker said.
Described in her nomination as a champion for student success, parents describe Baker as an excellent communicator who puts the best interests of their children first. "She does not miss an opportunity to teach or redirect any one of her Bulldogs so they can meet the high expectations she has for her students. Mrs. Baker makes an obvious effort to find potential in her students that often times they, or their parents, don't see," fellow principal and Smallwood parent Thadine Wright wrote.
Wendy Fuller, a Smallwood parent, wrote that Baker is a game changer. "I've not come across too many leaders who can wield authority so firmly while simultaneously imparting fairness, kindness and respect for those in their charge. Mrs. Baker is such a leader. She brought order where there was chaos, attention where there was neglect, and optimism where there was complacency."
Staff members said Baker is enthusiastic, passionate and has instilled professionalism and a sense of belonging for all staff and students at Smallwood. Teachers describe Baker as a visible principal who makes morning announcements, visits classrooms and eats lunch with students. Her energy and devotion to General Smallwood, its students and staff, has created a school that students are proud to attend and where teachers are proud to work.
"The most endearing quality of Ms. Baker is that she loves each and every one of her kids and has a concurrent ability to relate not only to them, but also to every employee that walks into her school. … It is with this dedication from Ms. Baker that every student that walks through the doors of General Smallwood Middle School knows that they have an equal learning opportunity that awaits them in a safe, sound environment," Bethany Barthelmes, teacher, wrote.
" … It has always been about the students with Mrs. Baker and she continues to amaze the staff and the community with her ability to really get to know each and every one of the 500 children who enter the building daily," wrote Janet Jones, Reading Resource teacher.
Baker is a Waldorf resident and 35-year veteran educator who began her career as a social studies teacher at La Plata High School where she taught from 1974-1997. She served as an administrative intern at Milton M. Somers Middle School during the 1997-98 school year and as vice principal at Somers from 1998-2004. In 2004, Baker was named as Charles County Public Schools Vice Principal of the Year. Baker was promoted to the principal position in 2004 at Piccowaxen Middle School. She transferred to Smallwood as principal in 2006. Baker earned her bachelor of science in secondary education social studies in 1974 from Elizabeth City State University in North Carolina and her master's degree in school administration and supervision from Bowie State University in 2001. "Even though I'm originally from Elizabeth City, North Carolina, I feel that I am home grown because this is the only real job I've had. Teaching is my love; it is my passion," Baker said.
Baker said she was speechless when told by Superintendent James E. Richmond she was the principal of the year. "This honor of outstanding principal is a culmination of the commitment and dedication of team work from the entire Smallwood community, composed of students, parents, staff, teachers, administrative staff, instructional leadership team, counseling department, building services, food services and local community stakeholders. We believe in mobilizing and shifting toward success for the benefit of our students."
The Washington Post each year honors outstanding principals throughout the metropolitan area through its educational foundation. A committee reviews nominations throughout the school system and one principal is chosen to represent Charles County in the program as its Principal of the Year. The Washington Post Education Foundation on April 29 will honor Baker during a ceremony and reception for the recipients of the Distinguished Educational Leadership Awards.
Source: Charles County Public Schools