PRINCE FREDERICK, Md. (April 9, 2010) - The Calvert Investigative Team (CIT) today released the following incident and arrest report.
UNDERCOVER DRUG BUY: On March 31, the Calvert County Investigative Team's Drug Enforcement Unit arrested two subjects in reference to a month long investigation. A detective acting in a covert capacity contacted a subject named "Big T" via cellular phone. During their phone conversation the detective arranged to meet "Big T" at the Solomon's Food Lion. The covert detective arranged to purchase two 8-balls of cocaine for $350 US Currency. Two 8-balls is equivalent to approximately 7 grams of cocaine.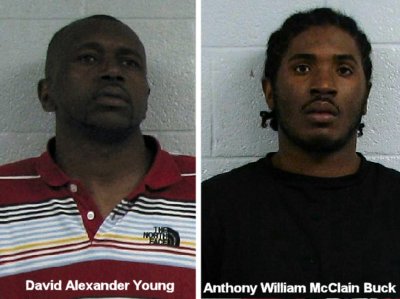 Subsequently, members of the Calvert County DEU and Special Operations Team conducted surveillance. "Big T" met with the covert detective and sold suspected cocaine to the detective. "Big T" went to his vehicle, members of the Calvert County Sheriff's Office Special Operations Team detained him and another black male who was the operator of the vehicle. The operator of the vehicle was identified as Anthony William McClain Buck, age 21, of St. Mary's County. The passenger who sold cocaine to the undercover police officer was identified as David Alexander Young, 43, also of St. Mary's County.
Both subjects were subsequently transported to the Calvert County Detention Center pending a hearing with the District Court Commissioner. Young was charged with distribution of cocaine, and Buck was charged with conspiracy to distribute cocaine.