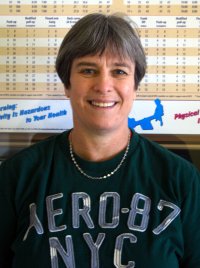 Dr. Thomas L. Higdon Elementary School physical education teacher Jill Jowdy, named 2010 Agnes Meyer Outstanding Teacher in Charles County. (Submitted photo)
LA PLATA, Md. (April 8, 2010)—Pirate Ship is one of the most popular student activities in the Dr. Thomas L. Higdon Elementary School gymnasium, located in Newburg, Charles County. Students are separated into teams and their goal is too retrieve treasure, which is carefully guarded by Higdon's physical education teacher, Jill Jowdy. As she stands in the middle of the gym, armed with a long foam swimming noodle, Jowdy calls students from each team into the center to attempt to "rob" her. The goal is for students to exercise, have fun and work together.
The passion Jowdy has to teach students healthy habits and build their confidence levels is evident when she interacts with each child. She encourages self esteem and believes in her students, and it shows in her daily lessons. Not only does she teach her students to live healthy lifestyles, but she incorporates reading, mathematics, science and writing curriculum into each lesson. She has high expectations for her students and encourages them to do their best. It is these qualities, and her ability to challenge students to be the best they can, that earned Jowdy the 2010 Washington Post Agnes Meyer Outstanding Teacher Award for Charles County.
With the exception of a few months as a long-term substitute at La Plata High School right after she graduated from college, Jowdy has spent her 30-year career with Charles County Public Schools as the physical education teacher at Higdon. She was hired in 1980 when Higdon was formerly known as Glasva/Wayside Elementary School. Higdon Principal Peggy
Mertes said Jowdy is an outstanding teacher who goes far above and beyond the expectations for a teacher to help children excel in life.
"She is deeply committed to this school – to the students, staff, parents and community. Her efforts in supporting children should be recognized as she will do what it takes to make each child successful. Her efforts for this school all show that her beliefs are to have our school exist for children first," Mertes said in a nomination letter.
Jowdy was "astounded" that she was nominated for the Post's Agnes Meyer. "I am both honored and humbled to win this award. I was shocked that I was nominated, since most nominees are classroom teachers, but I am very honored that I was selected. It makes me very proud of my profession," she said.
Jowdy said her desire to teach physical education began when she was middle school. It was the first time she took physical education, and her teacher would always pick the best students to participate in class activities. "I recognized that there was a different way of teaching physical education to include all students. I realized that I wanted to teach basic physical skills so all children could participate and have confidence in their athletic skills," Jowdy said.
Betty Horton, a first-grade teacher at Higdon, said Jowdy provides students with a nurturing environment and opportunities to make academic connections through physical activity. "One of the hallmarks of Jill's teaching style is an emphasis of individual achievement and non-competitive fun. This creates an atmosphere in which each student can feel good about his or her accomplishments, regardless of athletic ability," Horton wrote in a nomination letter. "With this type of built-in success, students' confidence is naturally fostered."
Higdon parent Julie Chapman, who was instrumental in organizing Jowdy's award nomination packet, has been a part of the Higdon community for 14 years and said Jowdy is an exceptional teacher. "She has always encouraged my children to put forth their best effort. She stresses teamwork, sportsmanship and having fun. She goes out of her way to include all students and always points out their strengths," Chapman wrote in an award nomination letter.
In addition to the popular Pirate Ship activity, Jowdy often uses step pedometers, which track the number of steps walked, in her lessons and takes pride in her students when they connect the activity with mathematics. Jowdy said she realized how beneficial the pedometer use was in her lessons when a student realized he could count his steps with place values. Jowdy also teaches lessons on anatomy by talking about physical activity and exercises with her students. "Ms. Jowdy gives us many challenges. Sometimes it is how long we can do an activity, or when we are outside running, she challenges us to run a mile. Ms. Jowdy wants us to work hard, but also wants us to have a lot of fun," Higdon fourth grader Robert Delozier wrote in a nomination letter.
Higdon fifth grader Cameron Warfield said Jowdy taught him strategies to use to become better in soccer. "I think she is the best P.E. teacher in the world. We always have so much fun playing basketball and hockey. I learned how to kick the soccer ball better and learned different strategies to stop the ball," he said in a nomination letter.
To further her education, Jowdy began a master's program in guidance and counseling in 1981 at Bowie State University. She wanted to have a fallback option that involved students and education, in case she got "burnt out" from teaching physical education. But, Jowdy says she loves her job and enjoys teaching children lifelong health habits. "I enjoy teaching habits for students to learn about their future. I really do consider all of them as my children," Jowdy said.
Jowdy also coordinates school programs including the Higdon Jump Rope for Heart efforts, the Just Say No Club for fourth and fifth graders, the annual fall festival and one-mile fun run, and is an outdoor education teacher on fifth-grade field trips to Hard Bargain Farm and the Nanjemoy Creek Environmental Center. Jowdy has also been a long standing member of the Higdon Parent Teacher Association. "I can count on one hand the number of PTA meetings she has missed over the past 14 years. Ms. Jowdy is the 'T' in PTA at Dr. Higdon Elementary School," parent Julie Chapman wrote in a nomination letter.
In her spare time, Jowdy loves to read, and has helped coach little league baseball, soccer, field hockey at La Plata High School, volunteered with the YMCA, department of parks and recreation, Girl Scouts of America. She is also a parent volunteer at her children's schools in Virginia. Jowdy, and her husband Robert, who is a longtime CCPS educator, live in Virginia with their four children.
Jowdy obtained her master's degree in guidance and counseling from Bowie State University in 1987. She earned her bachelor's degree in 1980 from Frostburg University, where she majored in health and physical education. She is also a member of the Maryland Association for Health, Physical Education, Recreation and Dance, and has received numerous physical education awards.
The goals of the Agnes Meyer Outstanding Teacher Award, which is sponsored by the Washington Post Company Educational Foundation, are to recognize excellence in teaching, to encourage creative and quality instruction and to contribute in a substantive way to the improvement of education. Agnes Meyer was the wife of Eugene Meyer, who purchased the Post in 1933 and was an advocate for public education. The Post will honor Jowdy during a May 11 reception. She will be recognized by the Board of the Education at the June 1 meeting.
Source: Charles County Public Schools