By DANIEL LEADERMAN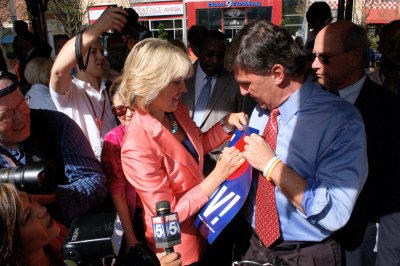 Former Gov. Robert Ehrlich Jr. and his wife, Kendel, sign a recycled 2006 campaign poster Wednesday at a Rockville rally that kicked off Ehrlich's 2010 candidacy for governor. (Capital News Service Photo by Graham Moomaw)
ROCKVILLE (April 8, 2010)—Former Gov. Robert Ehrlich kicked off his campaign to win back his old office Wednesday at a rally in Rockville, pledging to lower the sales tax, increase the number of charter schools and make the state friendlier to small businesses.
"Welcome to history, part two," Ehrlich told the crowd of about 200 at Rockville Town Center.
Ehrlich, a Republican, was elected governor in 2002 but was defeated by Democrat Martin O'Malley in 2006. Now facing a rematch where both candidates have a full term under their belts, Ehrlich outlined the areas where he felt the state needed to improve.
"Today, we again look to our small-business entrepreneurs as a source of job creation, not revenue enhancement," Ehrlich said. He then asked the crowd of about 200 how many of them were small business owners.
"This is your day," he told the many raised hands. "You are empowered officially today in the state of Maryland."
Maryland Republicans have criticized O'Malley for a 2007 tax increase that they say disproportionately affects businesses and working families.
"Today, we begin to roll back the 20 percent increase in the Maryland sales tax," Ehrlich told the cheering crowd.
Ehrlich also criticized the current administration's handling of state finances and vowed to fix the state's budget deficit by making sure the government doesn't spend more than it has, and by doing away with "budget fixes that never quite worked."
O'Malley's proposed FY2011 budget relied heavily on fund transfers to close a $2 billion dollar shortfall, a move many Republicans criticized as delaying the problem rather than solving it.
On schools, Ehrlich pledged to "jump-start educational opportunity in the state yet again."
"We're going to double the number of charter schools," Ehrlich said. There are currently 42 public charter schools in Maryland, 33 of which are in Baltimore, according to the Maryland State Department of Education.
Taking on O'Malley on education issues may be a tough battle for Ehrlich. O'Malley frequently counts record-level funding of K-12 education, a four-year higher-education tuition freeze, and Maryland schools being ranked No. 1 in the country by Education Week magazine among his administration's successes.
The battle between the governors began even before Ehrlich's announcement. The Maryland Democratic Party set up a fake campaign website, BobEhrlich.Org, mocking Ehrlich's record as governor, his WBAL radio program, and his law firm, Womble Carlyle Sandridge & Rice.
On Tuesday, the O'Malley campaign challenged Ehrlich to a debate on his Saturday morning radio show, but the two campaigns have yet to agree on the terms.
In a statement released Wednesday, O'Malley called the race "a grudge match to try and show the people they were wrong when they voted (Ehrlich) out in 2006," but welcomed Ehrlich to the race nonetheless.
Wednesday morning's announcement was preceded by a Chinese dance performance, complete with drums and a two-man, lion puppet sporting "Bob Ehrlich For Governor" stickers on its mouth and head.
Not surprisingly, jobs and the economy seemed to be on the minds of Ehrlich's supporters at the Rockville rally.
Many held signs reading, "Bob's For Jobs," a possible response to O'Malley's frequently-cited declaration that "jobs, jobs, jobs" are his top priority.
Sheila Hennessey, a "life-long" Republican from Chevy Chase, said she supported Ehrlich because his economic policies were more pro-business than O'Malley's.
To some in attendance, Ehrlich's return to state politics was akin to the return of a fallen hero. Marilyn Ochs of Bethesda said she was a "big supporter" of Ehrlich, and felt he could deliver lower taxes and budget surpluses.
"I think he's just a real person," Ochs said. "I have a tremendous respect for him."
Ochs, who frequently attends tea party events, sported a sign declaring, "We Love the Gov," that she said Ehrlich had signed in 2006, and hoped to get him to sign it again.
Later, when she succeeded in getting Ehrlich's autograph a second time, Ochs let out a delighted scream fit for a Beatles concert.
Ochs was one of several tea party activists in attendance. Cathy Kelleher, an organizer with National Capitol Tea Party Patriots, a group that has thrown its support behind other Republican candidates, was volunteering at the event, helping give out Ehrlich stickers and signs.
Asked if Ehrlich would be courting tea party support, his campaign spokesman, Andy Barth, said that Ehrlich would be seeking the votes of all Marylanders, including Democrats and independents.
Independent voters are crucial in Maryland, which has a 2 to 1 ratio of registered Democrats to Republicans. A February Rasmussen poll showed O'Malley's job approval at a modest 53 percent, and political analyst Stuart Rothenberg wrote on his blog last month that while O'Malley had previously been considered "Safe" in a rematch race with Ehrlich, the incumbent now had only a "Narrow Advantage."
A Wednesday evening event was planned in Halethorpe, near Ehrlich's hometown of Arbutus.
Capital News Service contributed to this report.