LA PLATA, Md. (April 6, 2010) - The Charles County Sheriff's Office today released the following incident and arrest reports.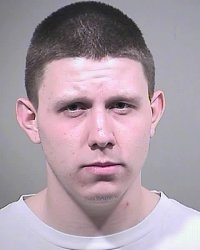 DETECTIVE SOLVES THREE BURGLARIES AND RECOVERS STOLEN PROPERTY: Charles County Sheriff's Detective C. Wimberly arrested Jonathan David Elkins (pictured at left), 22, of no fixed address, in connection with three burglaries that occurred in the 4800 block of Quade Circle in Waldorf between March 22 and March 27. Detective Wimberley pursued several leads in the cases and subsequently identified Elkins as the suspect. On April 5, Detective Wimberly, along with Sgt. D. Bacon and other officers, located Elkins at an acquaintance's house on Quade Court where some of the stolen property was recovered. Elkins was charged with burglary and remanded to the Charles County Detention Center with no bond. The property was returned to their owners.
THEFT OF WHEELS AND CUSTOM RIMS: Between April 5 at 11 p.m. - April 6 at 7:30 a.m., unknown suspects entered a garage in the 4700 block of Rookewood Place in Waldorf and stole four wheels and custom rims from a car. Detectives believe the suspects gained entry through a garage window. The scene was processed for evidence. Officer J. Foster is investigating.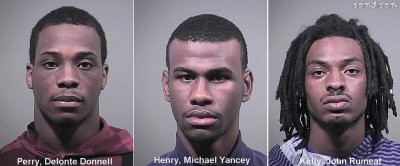 OFFICERS ARREST FIVE TEENS WITH LOADED FIREARM: On April 5 at 10:17 p.m., officers responded to the area of Harvest Fish Place and Halibut Place in Waldorf for the report of suspicious activity. Upon arrival, officers made contact with the complainant who said he had just confronted several teens about throwing rocks and bricks into the street when an older model, red Nissan Pathfinder approached. The victim reported he heard the occupants make statements about shooting him. The suspects then fled towards St. Phillips Drive. Sgt. Draheim and Officer C. Barrows observed the car and initiated a traffic stop where they recovered a loaded shotgun, shotgun shells and several ski masks inside the car. The suspects, Delonte Donnell Perry, 18, of Hughesville, John Rumeal Kelly, III, 18, of Waldorf, Michael Yancey Henry, 18, of Williamsport, a 16-year-old male from White Plains and a 17-year-old from Waldorf, were arrested and charged with carrying a concealed deadly weapon. Officer C. Barrows is investigating.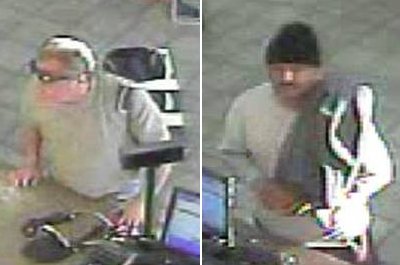 PUBLIC'S HELP NEEDED IDENTIFYING TWO PEOPLE: Charles County Sheriff's detectives are asking for the public's help in identifying two people who may have information regarding a sexual assault that occurred on March 17 on Western Parkway in Waldorf. Based on information provided by the victim, officers learned the two men were inside a business prior to the assault. Officers viewed surveillance footage from the business and retrieved photos of the men (shown above). Further investigation revealed the white male may go by the name of "Rick." Anyone with information about the identity of either man is asked to call Detective K. Klezia at 301-609-6479.
TEEN CHARGED WITH ASSAULTING SHERIFF'S OFFICER: On April 3 at 5:50 p.m., officers responded to the 7500 block of Shirley Boulevard in Port Tobacco for the report of an assault between a 17-year-old male and a 17-year old- female. When the parent's of the girl came home, she began arguing with them. When one of the officers tried to stop the girl from approaching a parent, the girl scratched the officer across her face and tried to push past her. The teen was arrested without incident and charged with assault. Officer J. Morales is investigating.
K-9 OFFICER AND PARTNER LOCATES PROPERTY STOLEN IN ROBBERY: On April 1 at 10:41 p.m., officers responded to the 5000 block of Dorchester Circle in Waldorf for the report of a robbery. Investigation revealed the victim was approached by three males who pointed a handgun and demanded money. The suspects fled towards St. Philips Drive. A K-9 officer and his partner responded and started a track. The victim's stolen property was recovered a short distance away. Officer R. Johnson is investigating.
ROBBERY: On April 1 at 10:30 p.m., officers responded to the 2400 block of Acton Lane in Waldorf for a robbery. Three suspects in a dark colored car approached the victim, pointed a handgun and demanded money other property. The victim complied and the suspects fled. Officer J. Alpert is investigating.
Callers wishing to remain anonymous may contact Crime Solvers at 1-866-411-TIPS or Text CHARLES + your tip to CRIMES or visit WWW.CCSO.US to submit a web tip. Charles County Crime Solvers offers cash rewards of up to $1,000 for information that leads to an arrest or indictment.