Memorial Service Saturday, April 10, at SMCM for Lucille Clifton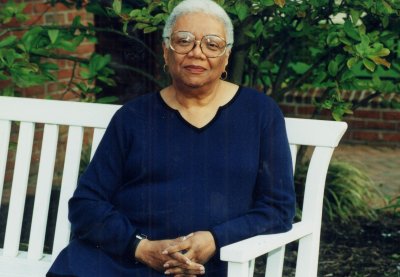 After a poetry reading on the campus of St. Mary's College of Maryland in 2003, Lucille Clifton relaxed on the Townhouse Green.
ST. MARY'S CITY, Md. (April 5, 2010)—Poet Lucille Clifton, a former St. Mary's College of Maryland (SMCM) professor of humanities and Maryland poet laureate who died Saturday, February 13, will be remembered at a memorial evening event at 7:30 p.m. Saturday, April 10, at the college's Montgomery Hall 25. The event, entitled "Honoring the Light that is Still Lucille," includes friends and family, including former SMCM president Ted Lewis, acting SMCM president Larry Vote, and Maryland poet laureate and SMCM professor Michael Glaser, among others. There will also be performances by pianist Brian Ganz and the St. Peter Claver Gospel Choir. The service will also include many remembrances of Clifton previously submitted by her friends and readers.
"Central to this event will be not only our remembrances, but also the sharing of the understandings and strength that so many of us gained from our interactions with Lucille," said Michael Glaser, who was a close friend of Clifton. "We hope the evening will help us not only remember, but also explore how we might keep Lucille's insights, wisdom, and values alive in the world by carrying them forward, by embodying them in our daily lives, and bringing them into the circles of our various communities."
The event will also feature memories and comments from close friends of Clifton, including Ramtin Arablouei, Anne Caston, Fred D'Aguiar, Angel Fujimoto-Meagh, Wayne Karlin, and Evie Shockley. SMCM student Henry Arango, staff member Ray Raley, prominent community member Janice Walthour, and former SMCM professor Ernie Wormwood will also share their reflections on Clifton's life.
Among many awards over her life, the poet, who was 73, received the National Book Award in poetry in 2000 for her collection of poems, Blessing the Boats: New and Selected Poems, 1988-2000. She received an Emmy and was the only poet to have been nominated for two Pulitzer Prizes in a single year.
"Lucille Clifton taught and inspired generations of poets, including many students at St. Mary's College," said Larry Vote. "She was beloved by the faculty, staff, and community. She brought to campus many poets of international renown, creating a legacy and special love of poetry that exists to this day, and was a great teacher and friend to the college. Lucille Clifton's presence continues to be tangible on campus with her poetry adorning both the Campus Center and in a special installation encircling St. John's Pond. She will forever be a significant part of the college's history."
Clifton also had a great impact on generations of students at St. Mary's College, including Colombian-born Henry Arango '10, who came to the U.S. at age eight and has written poetry ever since. "As someone who has experienced marginalization, I was drawn to Lucille's work, which embraced and encouraged me to continue to give voice to my experience," he said. Arango met Clifton three years ago during a poetry workshop that she led. He attended the Duke Ellington School of the Arts in Washington, D.C., and now serves as the president of Raices Hispanas and is an English and African and African Diaspora Studies major at SMCM.
"Outside of her work," Arango added, "Lucille was able to invoke the nurturing feelings so familiar of a daughter, mother or grandmother, the people who we look to comfort us and cast their blanket of warmth and love over us. Lucille Clifton was not just a poem written on the wall at St. Mary's College, she was a celebration of life and all the wonderful things that make us human."
Roy Raley, former owner of Raley's Grocery Store in Ridge, Maryland, and now an SMCM employee, met Clifton nearly 15 years ago, when Glaser's wife, Kathleen, brought her in for fried chicken. "We met over fried chicken," laughed Raley. A friendship bloomed, and she would eventually visit Raley for dinner at his home. "We talked about everything—from race to ghosts to space. She taught me an awful lot about life. You don't often meet people in your life who can have that kind of an impact.
"We talked about race all the time, for lots of reasons…She said once that racism is a factor in everyone's life, we just don't admit it. She was so genuine and honest. She didn't intimidate you with her education or her stature, because she never brought it up. She wanted you to accept her as the person standing before you."
Clifton served the college as St. Mary's Distinguished Professor of the Humanities from1989-2000 and as the Hilda C. Landers Endowed Chair in the Liberal Arts from 2000 until her retirement in 2007. She was most famously known as a poet who wrote with a distinct voice, indentifying herself as a mother and a black woman. She was born in Depew, New York, June 27, 1936. Her first book of poems, Good Times, was rated one of the best books of the year by The New York Times in 1969.
Clifton went on to write many other collections of poetry, including The Terrible Stories (1995), which was nominated for the National Book Award; The Book of Light (1993); Quilting: Poems 1987-1990 (1991); and Next: New Poems (1987). Her collection Good Woman: Poems and a Memoir 1969-1980 (1987) was nominated for the Pulitzer Prize; Two-Headed Woman (1980), also a Pulitzer Prize nominee, was the recipient of the University of Massachusetts Press Juniper Prize. She also wrote Generations: A Memoir (1976) and 20 children's books.
Her honors included an Emmy award from the American Academy of Television Arts and Sciences, a Lannan Achievement Award in Poetry, two fellowships from the National Endowment for the Arts, the Shelley Memorial Award, and in 2007, she was the first African American woman to be awarded the Ruth Lilly Poetry Prize from the Poetry Foundation for "lifetime accomplishments that warrant extraordinary recognition." In 1999, Clifton was elected a Chancellor of the Academy of American Poets.