One Suspect Arrested in New Jersey, Search Continues for Remaining Suspects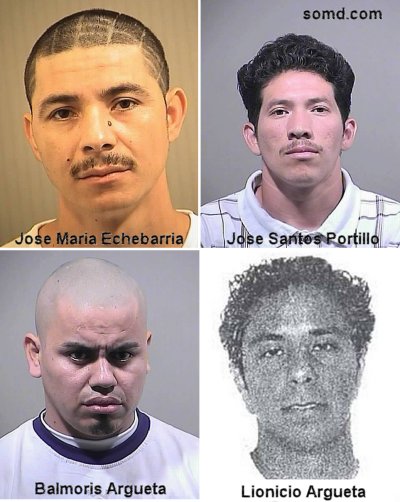 Jose Maria Echebarria, 30, of Waldorf, was arrested for allegedly participating in the gang rape of a woman on March 16 in Waldorf. Jose Santos Portillo, Balmoris Argueta, and Lionicio Argueta are still wanted. Six others were arrested on March 16 at the scene of the crime.
LA PLATA, Md. (April 15, 2010)—Charles County Sheriff Rex W. Coffey today announced sheriff's investigators have identified four additional suspects involved in the March 16 sexual assault of a woman on Nicholas Road in Waldorf. Of the four, one suspect, Jose Maria Echebarria, 30, of Waldorf, was located and arrested on March 31 in Newark, New Jersey.
Coffey says detectives are pursuing leads to locate the remaining three suspects who are believed to have fled the area:
-- Jose Santos Portillo, 25, 5'7", 145 lbs., black hair, brown eyes;
-- Balmoris Argueta, 26, 5'6", 170 lbs., may have hair or be clean shaven; and
-- Lionicio Argueta, a/k/a Francisco Orellana, 29, 5'7", medium build.
The three wanted suspects all have prior arrest records in Maryland. somd.com has not yet confirmed the immigration status of the four new suspects.
In all, investigators say a total of 10 men were involved in the attack and that seven of the suspects have been arrested and charged.
Detectives in the Charles County Sheriff's Office Criminal Investigations Unit and investigators from Immigration and Customs Enforcement (ICE) have been working to identify and arrest all of the suspects.
"This was a brutal attack and we are absolutely committed to bringing justice to the victim," said Sheriff Coffey adding, "We will continue to pursue each and every lead until all of the suspects are apprehended."
"These arrests are proof that ICE is committed to tracking down and rooting out criminal aliens in our community. Providing assistance to our law enforcement partners to address criminal actions that pose a threat to public safety is a priority for ICE," said William Winter, Special Agent in Charge of U.S. Immigration and Customs Enforcement Office of Investigations in Baltimore.
A cash reward is being offered for information leading to the arrest of the remaining suspects. Anyone with information is asked to call (301) 932-2222. Callers wishing to remain anonymous may contact Crime Solvers at 1-866-411-TIPS or Text CHARLES + your tip to CRIMES or visit WWW.CCSO.US to submit a web tip. Charles County Crime Solvers offers cash rewards of up to $1,000 for information that leads to an arrest or indictment.
RELATED INFORMATION:
Six Suspected Illegal Immigrants Arrested for Gang Rape in Charles, March 18, 2010
http://somd.com/news/headlines/2010/11463.shtml