Latest $3,000 donation brings total contributions to $9,000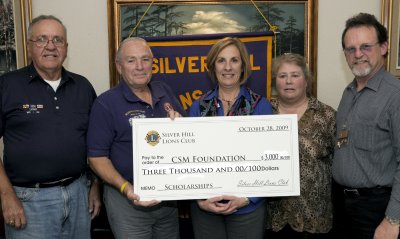 The Silver Hill Lions Club has donated $3,000 to the College of Southern Maryland, bringing the total given to $9,000. From left are Mel Anderson, treasurer, Silver Hill Lions Club; Phillip Eppart, president, Silver Hill Lions Club; Michelle Goodwin, CSM vice president of advancement; Sandi Halderman, 1st vice district governor, Lions District 22-C; and Rich Barb, 2nd vice district governor, Lions District 22-C and immediate past president of the Silver Hill Lions Club. (Submitted photo)
LA PLATA, Md. (April 01, 2010)—For the third year, the Silver Hill Lions Club has supported students attending the College of Southern Maryland with proceeds from the club's demolition derbies. The organization's latest contribution of $3,000 to CSM brings the total amount provided to $9,000.
"Education is the vehicle that gives us the ability to see the world from a perspective outside of our own family or community. It also gives us the opportunity to participate and give back," said Rich Barb, second vice district governor of Lions District 22-C. As active members of the community, the group is dedicated to helping those in need. "The Lions clubs throughout the world are formed by citizens that have a personal desire to help other members of their community," Barb said.
The Silver Hill Lions Club raises most of its funds through its demolition derbies held at Potomac Speedway in Budd's Creek. According to Barb, they have used this as their primary fundraiser for more than 25 years.
The donations go toward scholarships for students who attend CSM. Students can apply for scholarships through the Scholarship Finder at
www.csmd.edu/Financial/scholarships/
.