Twain Has Connected with Southern Maryland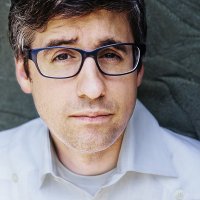 Mo Rocca, humorist from "The Daily Show with Jon Stewart" will be at SMCM April 24.
ST. MARY'S CITY, Md. (March 30, 2010)—April 2010 marks the centennial of the great American writer Mark Twain who is, as Twain biographer Ron Powers calls him, "Without question, the most recognizable American author, our nation's first rock star." At 7 p.m. Saturday, April 24, at the Michael P. O'Brien Athletics and Recreation Center at St. Mary's College of Maryland (SMCM), Peter Sagal, star of National Public Radio's (NPR) Wait, Wait...Don't Tell Me!; Mo Rocca, humorist from "The Daily Show with Jon Stewart;" CNN political analyst Amy Holmes; and Dr. John Bird, noted Twain scholar; will take part in a dynamic panel discussion on Twain's relevance today. Sagal will moderate the discussion using Twain's words to address questions about race, religion, politics, and the "damned human race." The panel discussion is free and open to the public.
Before the lecture, there will be a fundraising dinner for the Twain Lecture Series. A tented waterfront dinner will be served at 5 p.m. on the lawn of Maryland's first statehouse at Historic St. Mary's City. The event will be highlighted by remarks from Rocca. Special reserved seating for the dinner and the night's lecture is available for $100. For additional information on the panel discussion and to purchase dinner tickets online, visit www.smcm.edu/twain or call 1-800-458-8341.
"Humor," Mark Twain said, "must not professedly teach, and it must not profess­edly preach, but it must do both if it would live forever." With these words, Twain has given the charge: "We must live forever" through humor. The function of the SMCM Mark Twain Lecture Series on American Humor and Culture is to present the wide range of topics that face all humans, specifically Americans, through humor, with the guiding presence of America's greatest humorist.
It is little known that Twain had a strong connection to the state of Maryland. According to Dr. Benjamin Click, director of the Mark Twain Lecture Series and chair of the SMCM English department, "One of his earliest public speeches took place in Washington, D.C. in 1868. His last lecture was in Baltimore, Maryland, at the Misses Tewksbury's School Graduation, June 9, 1909. And just two years before that, he spoke at the Government House in Annapolis and was caught smoking in a "no smoking" sector of the Naval Academy." He died on April 21, 1910.
Public speaking wasn't Twain's only connection to Maryland. His smoking habit and love of tobacco also connects him to Southern Maryland. He described it thusly: "It is loose and dry and black, and looks like tea grounds. When the fire is applied it expands, and climbs up and towers above the pipe, and presently tumbles off inside of one's vest. The tobacco itself is cheap, but it raises the insurance." Click continued, "Twain smoked up to 40 cigars a day, but said he made it a rule to never smoke when sleeping, and the cheaper the cigar the better."
But Twain wasn't cheap in all his tastes. His love of Maryland seafood reveals his penchant for finer things and connects him to another Southern Maryland tradition, oysters. On his list of favorite American foods, he lists fried oysters, stewed oysters, blue points on the half shell, oyster soup, oysters roasted in the shell, soft shell crabs, Baltimore perch, and canvas back duck from Maryland. Food from Maryland dominates the list. Click added, "Given this predominance, it's safe to say that Twain digested more of Maryland than any other state."
But was Twain ever in Southern Maryland? Perhaps St. Mary's County? There's no factual record of it, but that does not matter. For a man who could tell a "stretcher" as he called them, he was familiar with how facts work. "I never saw an author who was aware that there is any dimensional difference between a fact and a surmise." Click continued, "That being the case, it's not hard to surmise that Twain ventured south of Annapolis for a meal of Maryland oysters and soft shell crabs and an after-dinner cigar, rolled from Southern Maryland tobacco."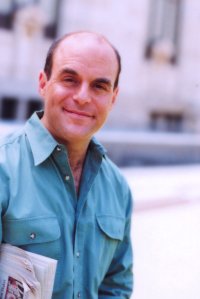 Peter Sagal, star of National Public Radio's (NPR) Wait, Wait...Don't Tell Me!
Sagal is the author of numerous plays that have been performed in large and small theaters around the country and abroad. Sagal joined the panel of a new news quiz show on NPR that made its debut on-air in January of 1998. In May of that year, he became the host of the show. Since then, Wait Wait... Don't Tell Me has become one of the most popular shows on public radio, heard by 2.5 million listeners a week on 450 public radio stations nationwide and via a popular podcast.
Humorist, actor, and writer Rocca is best known for his off-beat news reports and satirical commentary. Currently a contributor to the CBS Sunday Morning with Charles Osgood and host of The Tomorrow Show with Mo Rocca on CBSNews.com, he's also a panelist on NPR's hit weekly quiz show Wait, Wait...Don't Tell Me! Rocca spent four seasons as a correspondent on Comedy Central's The Daily Show with Jon Stewart and four seasons as a correspondent on The Tonight Show with Jay Leno.
Born in Lusaka, Zambia, and raised in Seattle, Washington, Holmes began her career in television as a Fox News Channel contributor. From there, she went to MSNBC for the 2000 presidential race. In 2002, she hosted Lead Story on Black Entertainment Television where she interviewed administration officials, journalists and top newsmakers. She has appeared on NBC Nightly News, Dateline, CBS Early Morning Show, and PBS's To the Contrary. While providing political analysis for CNN, Holmes also appeared as a member of HBO's Real Time Real Reporters team providing stories and commentary on the 2008 presidential election.
Bird's teaching interests include 19th and 20th century American literature, Mark Twain and American humor, critical theory, critical thinking, and composition. His main scholarly interest is Twain, about whom he has written critical articles and a book on Twain and metaphor. He has also written articles and given conference papers on Thoreau, Annie Dillard, Elizabeth Barstow Stoddard, other American humorists, and the Andy Griffith Show, among others. He is the original editor of The Mark Twain Annual, a publication of the Mark Twain Circle of America, and former president of the American Humor Studies Association.