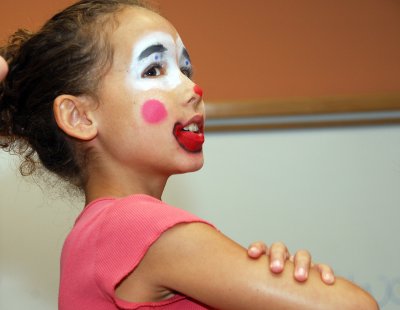 New to CSM's Kids' College this summer is a Circus Camp which includes training in juggling, acrobatics, stilt walking and tight wire walking under the direction of Michael Rosman, a graduate of Ringling Brothers and Barnum and Bailey Circus Clown College. (Submitted photo)
LA PLATA, Md. (March 28, 2010)—Rockets will blast off toward distant galaxies, acrobats will swing under the Big Top, super heroes will jump off the pages of comic books, robots will come to life, and sports and singing stars will be born-all right here in southern Maryland at this summer's College of Southern Maryland's Kids' and Teen College camps. Kids ages 5 to 17 will arrive on CSM's La Plata, Leonardtown and Prince Frederick campuses beginning June 21 for eight weeks of adventure and academics through Kids' and Teen College.
New this year are full-day camp options for 5- to 6-year-olds, building a sustainable solar-powered model home, American Sign Language and circus camps led by a graduate of Ringling Brothers and Barnum and Bailey Circus Clown College.
"We begin gearing up for the next year's summer programs in the fall by evaluating preferences and demand of popular classes, and requests for new offerings," said CSM Youth Program Coordinator John Terlesky. "By winter break we have nailed down the courses we want to offer and by the time the first daffodils bloom we have lined up instructors and are receiving formalized lesson plans."
One of those instructors is CSM Professor of Mathematics Sandy Poinsett, who started teaching Kids' College in 2000 with a couple of classes part-time. Now, she teaches morning and afternoon sessions for two workshops each week, for six to seven weeks. She designs the courses based on the level of interest she sees in different topic areas.
"I added a higher level of game design this year based on feedback from students," Poinsett said. To keep the workshops fresh, Poinsett does extensive research on fun and creative ways to present the subject matter, and, she says, she keeps a loose agenda and wiggle room to allow her to shift gears to match student interest. "The overall object is to have fun while learning," Poinsett said. "I want kids to come away with knowledge and problem-solving skills they can use elsewhere."
"The best part of teaching Kids' College is watching kids overcome challenges and become excited about their accomplishments," said Poinsett.
"I ran into a middle school student that I taught who is now in high school," Poinsett said. "He told me he creates games that he shares with friends, was on his high school robotics team, and has helped with his high school's web site-all using skills he learned at Kids' College."
Robotics, game design and 3-D animation workshops have added sections and levels the past three years. "Because of popularity and requests from students, we have added an all-day VEX robotics class this year for high school freshmen and sophomores," Poinsett said.
With a bachelor's degree in math from Indiana University, post-graduate work at Purdue University and a master's degree in educational technology from Towson University, Poinsett is highly qualified to teach community college level courses. Parents will have the same highly qualified college-level instructor for their 11- to 16-year-olds enrolled in one of Poinsett's workshops.
Science, technology, engineering and mathematics (STEM) classes are taught by CSM faculty. Sports, languages and literature, arts and crafts, dance, music and theater are taught by high school and middle school teachers.
Hope Quade, a teacher in St. Mary's County public schools, has been a Kids' College instructor for four years, teaching sand art, "Wanna Be a Super Hero?," "Gardening 4 Kids," keyboarding, cartoon art and "Gross Science." She begins preparing her courses in late winter by researching, preparing lesson plans and constructing materials lists based on planned activities for each class. "I put a lot of thought into each lesson and activity in hopes that kids will enjoy and grow with every experience," Quade said. "This is not only a camp but an enrichment experience-for enjoyment but also with academic purposes in mind."
According to Poinsett and Quade, kids often take more ownership of their learning because they have chosen the subject matter, and they are often surprised when they find a classmate from their school at summer camp who they didn't know shared their interests in robotics or computers.
"Seeing the look on kids' faces when building a rocket or making a bracelet out of gems is wonderful," said Quade. "Watching them learn to succeed is an experience like no other."
Jay Acevedo, 9, and a regular at Kids' College, is no stranger to success. "I loved launching rockets higher than the trees," he said of participating in the model rocket building camp. He wants to go to camp next summer, "and tell my friends about it," he said. Last summer he participated in Kids' College for eight weeks.
Acevedo was diagnosed with autism six years ago and his mother believes that early intervention, the special education programs through Charles County public schools and his experiences at Kids' College have helped her son to make great progress in his speech, language and behavior skills.
"As a parent you want to see your child flourish in all aspects of life," said Jay's mother Silvie Acevedo. She enrolled him in the 2008 Kids' College for four weeks to maintain social and academic skills he learned throughout the school year. Working with CSM's Disability Support Services Department, the Acevedos chose classes and met with instructors before the camp started. "He loved it so much, we enrolled him in eight weeks of classes in 2009," Silvie Acevedo said.
Jay Acevedo will be back this summer building robots, mixing chemicals, learning about electricity and, according to Silvie Acevado, "launching something high in the air."
Registration is underway for all summer offerings at Kids' and Teen College. For information, visit
www.csmd.edu/KidsCollege
.