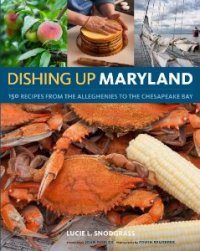 Dishing Up Maryland
is now available at
Amazon.com
and in bookstores.
ANNAPOLIS (March 25, 2010)—A first-of-its-kind cookbook in Maryland featuring local Maryland products, the farmers and watermen that grow and harvest them, and the chefs who prepare the recipes was released Wednesday at the Banneker-Douglass Museum in Annapolis. The launch event participants included Agriculture Secretary Earl F. Hance, author Lucie Snodgrass, photographer Edwin Remsberg, Storey Publicity Director Amy Greeman, and farmers and chefs with local products and recipes featured in the book.
Dishing Up Maryland
captures the unique and delectable cuisine of Maryland with "150 recipes from the Alleghenies to the Chesapeake Bay." The book is authored by award-winning Maryland writer Lucie Snodgrass. Stunning photography by Edwin Remsberg, himself a Maryland farmer, provides the visual counterparts to stories of the farm families and chefs featured in the book. John Shields, renowned chef who embodies the buy local effort, provides an insightful foreword to the book.
"We are thrilled about the launch of
Dishing Up Maryland
. It's a beautiful cookbook that showcases Maryland and the diversity of our farms as well as the talented and creative chefs who incorporate our fresh, local food into their fine menus," said Agriculture Secretary Buddy Hance. "We hope this will help to inspire more publications like this to showcase Maryland's agricultural traditions and support our farmers."
The book, published by Storey Publishing, is available
online
and wherever fine books are sold.
A portion of the proceeds from the sale of the book will be donated to the Maryland's Best program to promote the purchase of locally grown and raised products for the benefit of the State's farmers, watermen and related businesses.
The launch event, catered by Craig Sewell of A Cooks Café (Annapolis), was sponsored by the Maryland Wineries Association, Mid-Atlantic Dairy Association, Susan's on Smith Island, Maryland Cut Flower Growers Association, and Chesapeake Bay Roasting Company.
Scarborough Farms, of St. Mary's County, provided the daffodils for the event.