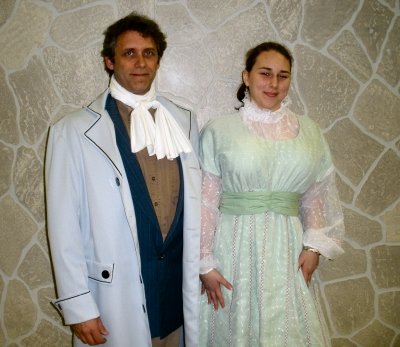 The Newtowne Players production of Oscar Wilde's
The Importance of Being Earnest
, opens in Lexington Park Friday. Aaron Meisinger, left, as Algernon Moncrieff and Mallory Green, right, as Cecily Cardew. (Submitted photo)
LEXINGTON PARK, Md. (March 25, 2010)—The Newtowne Players' production of Oscar Wilde's
The Importance of Being Earnest
opens in Lexington Park Friday.
The play by the legendary Irish playwright tells the story of two young gentlemen living in Victorian England who have taken to bending the truth in order to put some excitement into their lives. Jack Worthing has invented a brother, Earnest, whom he uses as an excuse to leave his dull country life behind for big city escapades in London. Algernon Moncrieff has taken the same name, "Earnest," when visiting Worthing's ward at the country manor. Things start to go awry when they both end up in the country and their deceptions are unraveled - threatening to spoil their romantic pursuits.
Performances are Thursdays through Sundays, March 26 through April 11. Thursday, Friday, and Saturday performances start at 8 p.m.; Sunday shows begin at 3:30 p.m. Performances are held at Three Notch Theatre on 21744 South Coral Drive in Lexington Park.
Tickets are $15 for adults and $12 for students, senior citizens and the military. Thursday shows are $10 general admission. Light refreshments and beverages are also available for purchase at the theatre.
Reservations are recommended. Call 301.737.5447 or visit
www.newtowneplayers.org
.