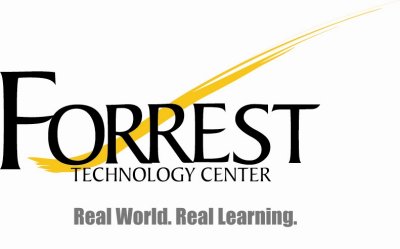 The new Dr. James A. Forrest Career & Technology Center logo. School officials and students hope the brand will "promote the ideals of quality education, marketable to today's workforce."
LEONARDTOWN, Md. (March 25, 2010)—Staff and students at the Dr. James A. Forrest Career & Technology Center recently began looking at the possibility of updating the school's branding. As part of the process, they voted on several options for a new logo. The results of the vote gave the school more than just a new logo and motto. For the first time in the school's history, the Forrest Center will have official school colors and a mascot.
Gold and black were selected as the school colors. School officials and students say the colors are as energetic and powerful as the unique learning environment at the Forrest Center.
The new motto is "Real World. Real Learning," and the new logo, a gold "swoop" with the school's name written in black letters. "(The new motto and logo) express the most important benefits the Forrest Center has to offer students—a dynamic, high energy, and totally hands-on classroom experience," noted a press release from the school.
The new Forrest Center brand also includes a school mascot, a bulldog. "Fierce in its convictions, and strong-willed, the Forrest Center bulldog will serve the school well in promoting unique programs in a positive way," according to the press release.
Ms. Amber Miedzinski, a 2009 graduate of the Forrest Center's graphic communications program, designed the new logo while attending the Forrest Center. Through a lesson on corporate branding in Ms. Kim Clements' graphic communications class, Ms. Miedzinski was able to use skills learned to create a new distinctive logo that exemplifies high-tech, modern education.
Miedzinski is presently enrolled at the College of Southern Maryland where she earned 9 college credits by completing the graphic communications program at the Forrest Center. At the end of the year, she plans to transfer to the Maryland Institute College of Art to pursue her dream of becoming a comic illustrator.