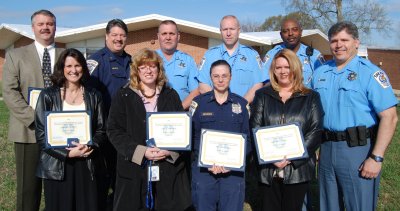 Some of the employees of the St. Mary's County Sheriff's Office who were honored for their long length of service on Tuesday. From left: Lt. Belleavoine, Sgt. Mileto, Capt. Merican, Lt. Hall, Cpl. Somerville, Ms. Kaspar, Ms. Thompson, Sgt. Morazes, Ms. Quade, Sheriff Cameron. (Submitted photo)
LEONARDTOWN, Md. (March 24, 2010)—Thirty-one people within the St. Mary's County Sheriff's Office were honored Tuesday by the St. Mary's County Board of County Commissioners for their dedication and length of service to the citizens of St. Mary's. The following employees were honored for their employment history ranging from ten to twenty-five years:
25 Years of Service
Captain Michael Merican
20 Years of Service
Lieutenant Theodore Belleavoine
Lieutenant John Shoemaker
Sgt. Diane Fenwick
Sgt. Julian Schwab
Sgt. Louis Mileto
Corporal Wayne Milam
Corporal Kevin Somerville
Corporal Dung Ross
Corporal Timothy Butler
Operations Manager MaryAnn Thompson
Senior Administrative Coordinator Georgia Kaspar
Senior Classification Specialist Crystal Hayden
15 Years of Service
Captain Daniel Alioto
Lieutenant Steven Hall
Sergeant Michael Butler
Sergeant Cara Grumbles
Corporal Andrew Holton, Jr.
Senior Administrative Coordinator Leann Quade
10 Years of Service
Sergeant Krista Morazes
Sergeant Christopher Morley
Corporal Robert Merritt
Corporal William D. Ray
Corporal Thomas Hedderich
Corporal Patrick Handy
Corporal Clay Safford
Corporal Margaret Smolarsky
Corporal Vyvyan Walker
Corporal Randall Wood
Deputy Douglas Harris
Correctional Officer Richard Deml