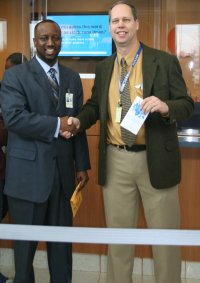 Dr. Gustavus Brown Elementary School Principal Marvin Jones, left, and Arthur Middleton Elementary School Principal Greg Miller, right, visited PNC Bank in Waldorf on March 2 with a group of students to turn in money collected through schoolwide efforts to benefit relief efforts in Haiti. Jones and Miller challenged their fifth-grade classes to a donation "battle," and each principal agreed to play the other in a one-on-one basketball game. Jones will travel to Middleton on March 26 to play Miller, since Middleton raised more money than Brown. Overall, both schools raised more than $1,600.
LA PLATA, Md. (March 23, 2010)—Arthur Middleton and Dr. Gustavus Brown elementary schools held schoolwide coin drives last month to benefit relief efforts in Haiti. Both schools tied their coin drives into Positive Behavioral Interventions and Supports (PBIS) program activities.
As an additional incentive for fifth graders to participate, Brown Principal Marvin Jones and Middleton Principal Greg Miller that the school that raised the least amount of money would host a one-on-one basketball competition between the principals. Both fifth-grade classes will attend the event.
Both principals, along with students from each school, traveled to PNC Bank in Waldorf on Tuesday, March 2, to have their donations counted to determine which school would visit each other for the basketball game. Although the totals were close, Middleton students raised the most money, with their donation totaling more than $1,108. Middleton's fifth-grade class raised half of the total, with their donations equaling more than $547. Brown students raised a total of $629, with fifth grade donations reaching more than $320.
Pat O'Connor, Middleton's school counselor, coordinated the event at Middleton, and Toni Bateman, Brown's physical education teacher and Dream Team coach, coordinated the drive at Brown. Jones plans to visit Middleton with his fifth-grade class on Friday, March 26, to honor Brown and Middleton's commitment to the coin drive in support of Haiti relief efforts and the American Red Cross.