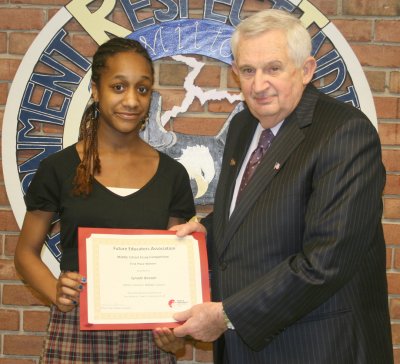 Charles County Public Schools Superintendent of Schools James E. Richmond, right, presents Milton M. Somers Middle School eighth grader Synade Beason, left, with a first place Future Educators Association Writing Prompt Essay Competition award on Friday, March 12. Beason won the national award for her essay, which discussed technological advances and their implications on the teaching profession. (Submitted photo)
LA PLATA, Md. (March 23, 2010)—Two Charles County Public Schools (CCPS) students, Milton M. Somers Middle School eighth grader Georgette "Synade" Beason, and Henry E. Lackey High School junior Tyler Warner, recently received national awards through the 2010 Future Educators Association (FEA) Leadership Conference, held Feb. 18-20 in Atlanta.
Beason won first place in the 2010 Writing Prompt Essay Competition. Her essay discussed technological advances and their implications on the teaching profession. As the first-winner, Beason received a recognition certificate and a $25 gift certificate from Amazon.com.
Warner received a certificate of participation in the FEA Moment Competition. This competition highlights students' FEA experience, and how their participation in the club has impacted their decision to become an educator. Warner was one of eight students selected nationwide to showcase her experience with FEA at the national conference.
In addition to Beason and Warner, Morgan Gales, North Point High School senior, and Brooke Logan, eight-grade student at Somers, were also invited to attend the national conference.
Each Charles County Public middle and high school has an FEA chapter for students in grades 6 – 12 who are interested in becoming educators. Student members are asked to pledge to serve as role models for their participation in FEA by promoting a positive attitude toward education to enhance the quality of educational programs.
The FEA aims to motivate middle and high school students from diverse backgrounds to pursue careers in education while studying teaching, working to improve the image of teaching, boosting faculty morale and linking students, parents and the community together. Through hands-on career exploration opportunities, FEA members assume leadership roles and develop professional skill sets that will serve them throughout their careers.
Source: Charles County Public School System