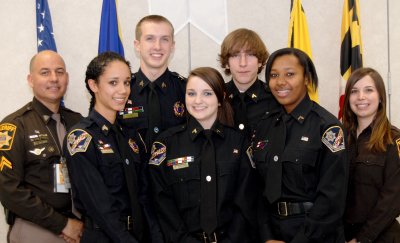 Pictured from left to right are Cpl. Rhett Calloway, Sierra Saunders, Chris Chamblee, Katie Collins, Tyler Jenkins, Jania Osborne and Forensic Evidence Technician Shelly Progovitz. (Submitted photo)
LA PLATA, Md. (March 23, 2010)—Chris Chamblee might be young but he knows his way around a traffic stop — so said the SkillsUSA judges who awarded the North Point High School senior first place in the organization's regional competition held Feb. 23.
Chamblee and four other students — senior Sierra Saunders and juniors Tyler Jenkins, Jania Osborne and Katie Collins — participated the competition. The five students are among those enrolled in the Criminal Justice Program offered by the Charles County Sheriff's Office and Charles County Public Schools as part of the students' daily curriculum. The competition required the students, who competed individually, to conduct a mock traffic stop and respond to mock crime scenes — a burglary and a loud music compliant. Chamblee and Osborne competed in the competition's Criminal Justice category and Jenkins, Saunders and Collins participated in the Crime Scene Investigators (CSI) category.
"I am really proud of these guys. They worked really hard and gave up a lot of Wednesday evenings to train and prepare for the competition," said Cpl. Rhett Calloway, who teaches the criminal justice class at North Point.
In the weeks prior to the competition, Cpl. Calloway taught the student competitors about responding to and investigating crimes and Shelly Progovitz, an evidence technician assigned to the Sheriff's Office's Forensic Science Unit, provided the CSI training.
"Shelly changed her schedule to accommodate our training schedule," said Cpl. Calloway. "She taught the kids a lot about CSI and how it is applied in the real world. She deserves a lot of credit for helping these kids."
According to its Web site, SkillsUSA is a partnership of students, teachers and industry representatives working together to ensure America has a skilled work force. It is a national nonprofit organization serving teachers and high school and college students who are preparing for careers in trade, technical and skilled service occupations like law enforcement, healthcare, culinary arts and welding, among others.
Chamblee will advance to the state SkillsUSA competition to be held March 27. Additionally, Osborne was selected to participate in an "Individual Open" event during which she will demonstrate proper handcuffing techniques.
Source: Charles County Sheriff's Office