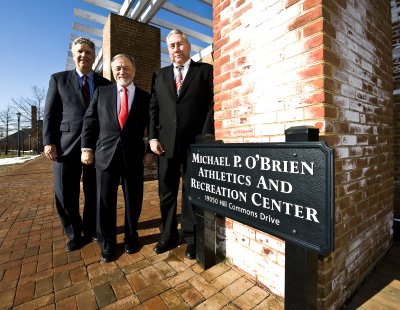 Michael P. O'Brien '68 (far right), St. Mary's College of Maryland (SMCM) board member, friend, and donor, stands with Larry Vote (far left), acting president of St. Mary's College of Maryland (SMCM), and Jim Muldoon, chair of the SMCM Board of Trustees, in front of the new Michael P. O'Brien Athletics and Recreation Center. The athletics center at the college was recently re-named as a tribute to contributions O'Brien made to the college in both the artistic and athletic fields. (Photo: Frank Marquart)
ST. MARY'S CITY, Md. (March 23, 2010)— The St. Mary's College of Maryland (SMCM) Athletics and Recreation Center was recently renamed the Michael P. O'Brien Athletics and Recreation Center after O'Brien, a local Realtor, member of the SMCM Board of Trustees, and part of the SMCM Class of 1968. An avid basketball player, O'Brien was a member of the 1968 men's basketball team and continues to support the athletics department, the River Concert Series, and the artist-in-residence program run by the college's English, art, and art history departments.
"I first met Mr. O'Brien…as "Mike" during my second year here at the college during noontime hoops," said Colby Caldwell, SMCM associate professor of art, during the ceremony. "It was during that acquaintance that I learned that 'Mike' was actually 'Mr. O'Brien,' the same Mr. O'Brien who would transform the cultural landscape at the college, and indeed, the community."
In 2003, O'Brien gave a gift to the college that SMCM professors Michael Glaser and Sue Johnson used to establish the Artist House, a home for visiting artists to stay during their time at St. Mary's College. The Artist House houses 12 artists and writers each year, three times the number of artists prior to O'Brien's gift, and allows them to spend time with students, conduct workshops, and give public lectures and readings.
"While reviewing donors, I came to know him for many years as 'Anonymous,'" said former SMCM president Maggie O'Brien. "Eventually, I learned that 'Anonymous' was Mike O'Brien…but he declined to be recognized for years and years."
Local artist Caroline Egeli painted a portrait of O'Brien that was unveiled at the ceremony and will remain in the athletics center.
Source: SMCM