New Focus on Diversity Education and Opportunity; Offered by College's New Masters of Art in Teaching Program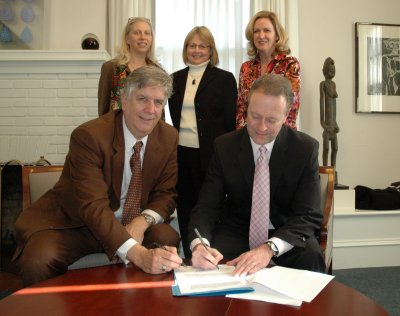 Lois Stover (back row, far left), St. Mary's College of Maryland (SMCM) education studies chair and director of teacher education; Deb Faller (back row, center), from the professional development office for the St. Mary's County Public Schools (SMCPS); and Leslie Moore (back row, far right), the professional development school liaison and director of student teaching at SMCM; stand with Larry Vote (front row, left), acting president of SMCM, and Dr. Michael Martirano, superintendent of the SMCPS, as they sign a revised vision/mission statement for the collaboration between the college and the public school system. Nearly 150 undergraduate SMCM students work in the SMCPS each semester, providing about 3,600 hours of tutoring and instruction each year to students kindergarten through grade 12. (Submitted photo)
ST. MARY'S CITY, Md. (March 18, 2010)—Acting president of St. Mary's College of Maryland (SMCM) Larry Vote recently signed a new agreement with St. Mary's County Public Schools (SMCPS) superintendent Dr. Michael Martirano that updates a longstanding collaboration between the two school systems and includes a revised vision/mission statement. Nearly 150 undergraduate SMCM students work in the public school system each semester, providing about 3,600 hours of tutoring and instruction each year to students kindergarten through grade 12.
New to the agreement is the inclusion of the Master of Art in Teaching (MAT) graduate degree program, which did not exist when the original agreement was signed. With the MAT program included in the new agreement, SMCM student teachers are working toward reflective practice, relationship-building skills, and research as a basis for teaching. The student teachers will then be able to give self-assessments on their lesson plans and work more closely with students from diversified backgrounds.
The new agreement also acknowledges the diversity found in St. Mary's public schools and the commitment undertaken by SMCM to work toward fostering county students to productively take part in a diverse world. New language in the agreement also paves the way for service learning opportunities for undergraduate courses at SMCM as a way to "enhance their understanding of the education system and their campus-based course work," according to the agreement.
"I am so proud of our rich partnership with St. Mary's College of Maryland," said Martirano. "Our students, teachers, and our community are reaping the benefits of our aligned purpose and collaborative endeavors."
"We're delighted with this new mission statement for the Professional Development Collaborative between SMCM and SMCPS," said Lois Stover, SMCM professor and chair of the education studies major at the college, as well as the director of teacher education. "Since the last version of the statement was signed back in 1999, we've developed a new program, the MAT. We also have a new superintendent in Dr. Martirano, and a new professional development school liaison/director of student teaching. It was time to make a new commitment to the collaboration."
Source: SMCM