Community Volunteers Sought for April 24 Event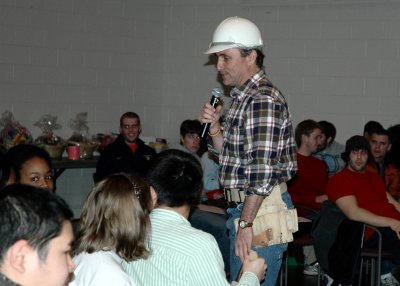 Rich Edgar, SMCM director of admissions, describes the next item up for auction, a SMCM diploma frame, to students at the 15th Annual Christmas in April Auction at St. Mary's College of Maryland. Participants bid on gift baskets, college memorabilia, and many other items donated by local sponsors, to raise money to fund the rebuilding of homes for low-income homeowners in St. Mary's County. (Submitted photo)
ST. MARY'S CITY, Md. (March 16, 2010)—The 15th Annual Christmas in April Auction held recently at St. Mary's College of Maryland (SMCM) raised $6162 to fund the rebuilding of homes for low-income homeowners in St Mary's County. Participants got to bid at both a silent and a live auction for a variety of items donated by local sponsors, such as gift baskets containing games, food, and kitchen supplies as well as movie posters and swimming and guitar lessons from students. SMCM has been involved with Christmas in April since its inception, providing volunteers for both rebuilding and fundraising.
For entertainment, there were live performances from the college a cappella groups TNA and the SMC-Men. Participants bid on items such as a college store gift set filled with college memorabilia, private performances from TNA and the SMC-Men, original floor boards from the Green Door, a River Concert Series package with reserved seating for two with parking and SMCM stadium chairs, and a champagne brunch for four at the Brome Howard Inn. Students intensely bid on college housing, parking anywhere on campus, and a diploma frame. A Senior Gala package that included a limo ride for eight people, two gala tickets, and family picnic tickets was another popular item that raised $360.
Christmas in April-St. Mary's County was founded in 1990 and has since repaired more than 564 homes and 13 community nonprofit centers. More than 31,700 volunteers have donated their time and efforts to help repair homes for low-income, elderly, and disabled homeowners. The last Saturday in April is dedicated for home repairs, but the organization is kept busy throughout the year, distributing free applications for assistance, gathering help from community leaders and skilled trade's people, and holding meetings and homeowner orientation nights. The 20th Annual National Rebuilding Day will occur Saturday, April 24. The homes of 21 individuals and one community nonprofit center (a hospice) will be repaired. An estimated 25 SMCM students are expected to volunteer.
To become involved, join Christmas in April-St. Mary's County for their monthly meetings on the third Wednesday of each month at the Burch Oil Company meeting room on Rt. 235 in Hollywood, Maryland. To receive reminders about the monthly meetings and activities, send your name and e-mail or home address to mary.chasen@christmasinaprilsmc.org. For more information on how to become involved with Christmas in April-St. Mary's County, or to access volunteer forms, visit www.christmasinaprilsmc.org.