Brendan Sail Training Program for Youth with Learning Differences at SMCM for Six Years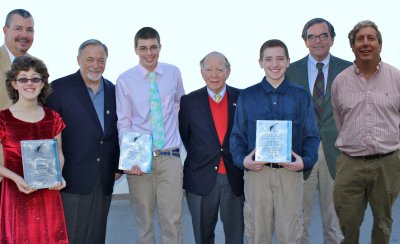 Program participants and volunteers were honored at the recent awards ceremony of the 2009 Brendan Sail Training Program for Youth with Learning Differences in Annapolis, which celebrates the "Faces of Brendan." From left to right: Tim Dowling, owner of the Annapolis Sailing School; Laura Rossi, of Annapolis, Maryland, won the Nogutsnoglory Award for sportsmanship, dedication, and character; Brendan Sail Program founder James P. Muldoon, of Washington, D.C.; Riggs Brusnighan, of Severna Park, Maryland, won the Arthur Birney Award for an advanced sailor displaying commitment to the program and sport; Brendan donor Arthur Birney; Wayne Carter, of Lexington Park, Maryland, won the Jerry and Kathryn Wood Award. This is given to a new student from St. Mary's County who embodies the spirit of Brendan: sail, be safe, and have fun; Lee Tawney, Brendan supporter and director, National Sailing Hall of Fame; and Adam Werblow, director of the waterfront and head varsity sailing coach at SMCM, who was honored with the Molly Mahoney Award for the volunteer contributing the most to the St. Mary's Brendan program this year. (Submitted photo)
ST. MARY'S CITY, Md. (March 09, 2010)—Program participants and volunteers were honored at the recent awards ceremony of the 2009 Brendan Sail Training Program for Youth with Learning Differences, which celebrates the "Faces of Brendan." Wayne Carter, of Lexington Park, Maryland, won the Jerry and Kathryn Wood Award. This is given to a new student from St. Mary's County who embodies the spirit of Brendan: sail, be safe, and have fun. Carter is a ninth grader at Great Mills High School.
Adam Werblow, director of the waterfront and head varsity sailing coach at SMCM, was honored with the Molly Mahoney Award for the volunteer contributing the most to the St. Mary's Brendan program this year. The Brendan sailing program has been hosted by St. Mary's College for six years.
The Brendan Sail Training Program, now in its 27th year, teaches sailing to young people with learning differences. Brendan instructors conduct eight-day sailing camps in Annapolis and Southern Maryland every summer. Founder James P. Muldoon, of Washington, D.C., and chairman of the St. Mary's College of Maryland (SMCM) Board of Trustees, started the program at the Annapolis Sailing School's facilities.
"Back then, I believed that sailing really could open up a whole new world to our kids," said Muldoon at the ceremony. "I still believe it today. And the Brendan graduates in the room today are proof of that."
The following participants also won awards: Laura Rossi, of Annapolis, Maryland, won the Nogutsnoglory Award for sportsmanship, dedication, and character. This is the third year the eighth grader from Norbel School has participated in the program. Riggs Brusnighan, of Severna Park, Maryland, won the Arthur Birney Award for an advanced sailor displaying commitment to the program and sport. Sixteen-year-old Brusnighan is a junior instructor for the program and attends Mt. St. Joseph High School.
The following volunteers also received awards: Linda Macpherson, of Bowie, Maryland, received the Daniel Gottlieb Award for the parent most generously going above and beyond to assist the program. Linda Kessler Muldoon, of Washington, D.C., received the Valerie M. Hill Award given to the volunteer contributing most significantly to the overall program.