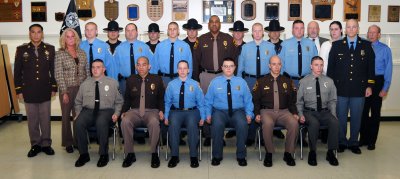 Pictured with their instructors and Academy staff are Southern Maryland's newly graduated corrections officers. [click image for larger rendition](Submitted photo)
PRINCE FREDERICK, Md. (March 07, 2010)—The Southern Maryland Criminal Justice Academy celebrated the graduation of 12 correctional officers at a ceremony held Jan. 22 at North Point High School for Science, Technology and Industry. A member of the Calvert County Detention Center's support staff also graduated.
The correctional officers completed a 10-week training program which began Nov. 9. Three of the graduating officers joined the Charles County Sheriff's Office, seven joined the St. Mary's County Sheriff's Office and two joined the Calvert County Sheriff's Office.
At the ceremony, Academy instructors presented awards to students who excelled in two categories. Officer Randall Molitor of the St. Mary's County Detention Center earned the scholastic award, having achieved a 97.8 percent grade point average. Officer Carlos Mays of the Calvert County Detention Center earned the physical fitness award, scoring 649 out of 800 possible points.
The class boasted a 94.7 percent final class academic average. Their class motto, chosen by the students at the beginning of the training program, was "Know Your Weakness, Show Your Strength."
Charles County Circuit Judge Helen Harrington was the keynote speaker and Officer Molitor was the class speaker. Nick Valltos of the College of Southern Maryland's Legal Studies Department spoke about an articulation agreement between the Academy and the College that provides each graduate with six college credits toward a criminal justice degree. Chaplain John Lewis of the Charles County Detention Center — a graduate of the Academy himself — delivered the invocation and benediction. Mark Radcliff, correctional coordinator for the Maryland Police and Correctional Training Commissions, shared opening remarks. The Academy's Board of Directors — Charles County Sheriff Rex Coffey, St. Mary's County Sheriff Tim Cameron and the board's president, Calvert County Sheriff Mike Evans — also shared remarks. Officer Jeffrey Hitaffer of the La Plata Police Department performed the national anthem and the Charles County Detention Center's Honor Guard presented the colors.
Following is a list of the graduates.
Charles County
Al M. Davis
Martin C. Letren
Thomas M. Zeolla
Calvert County
Carlos D. Mays
Daniel P. Morrison
John E. Lippert (Support Staff)
St. Mary's County
Justin M. Anderson
William C. Buckler
Frederick M. Clarke
Eric A. Crabill
Christiana M. Miesowitz
Frederick L. Miller, Jr.
Randall D. Molitor