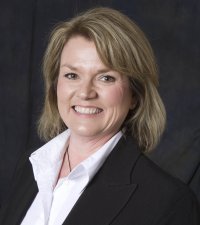 Sonja M. Cox, SMECO CFO and Calvert County resident, will participate in Leadership Maryland Class of 2010. (Submitted photo)
ANNAPOLIS (March 05, 2010)—Sonja M. Cox, senior vice president and chief financial officer with Southern Maryland Electric Cooperative (SMECO) and a resident of Huntingtown, has been selected for the Leadership Maryland Class of 2010. Founded in 1992, Leadership Maryland is an independent, educational, non-profit organization designed to inform top-level executives from the public and private sectors about the critical issues, challenges, and opportunities facing the state of Maryland and its regions.
One of 52 accomplished and talented statewide leaders selected to participate in the eight-month program, Cox has worked at SMECO since January 1999 and has served as vice president since February 2006. She supervises a department of 45 employees, including financial services; rates, economic services and energy procurement; environmental and energy conservation programs; billing services; and human resources. Cox earned a Master of Business Administration degree from The Johns Hopkins University and is a Certified Public Accountant licensed in the State of Maryland.
Following a two-day opening retreat in April, participants will attend five two-day, and one one-day intense sessions focusing on issues such as economic development, education, health and human services, criminal and juvenile justice, environment, and multi-culturalism/diversity. More than 100 experts representing business, government, education, and the non-profit community will serve as panelists and guest speakers.
"The participants represent a broad spectrum of highly qualified executives from an extraordinary group of statewide applicants," according to Nancy Minieri, president of Leadership Maryland. "After participating in a comprehensive range of experiences over the next year, these leaders will serve as important participants in the unified effort to shape Maryland's future." Leadership Maryland is one of 34 state leadership programs nationwide.
Source: Leadership Maryland