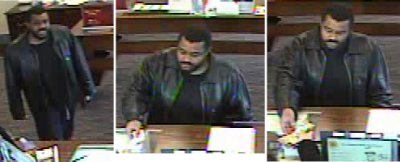 Bank surveillance photographs of the Dunkirk BB&T Bank robber.
PRINCE FREDERICK, Md. (March 04, 2010)—At 12:15 p.m. Thursday, the BB&T Bank located at 10264 Southern Maryland Boulevard in Dunkirk was robbed. The robber, described as a black male, handed a teller a note requesting money. The suspect obtained an undisclosed amount of cash and fled the scene on foot in an unknown direction.
No one was injured.
This is the second bank robbery in Calvert County within a month. The Maryland Bank and Trust in Solomons was robbed on Thursday, February 11, by a lone gunman. Police are still searching for a suspect.
Anyone with information or who can identify the subject pictured is asked to contact Det. Nick Defelice of the C.I.T. at 410-535-2800 ext. 2669.