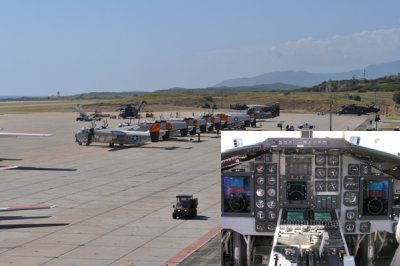 Equipment and supplies are loaded onto a C-2A Greyhound assigned to the Rawhides of Fleet Logistical Support Squadron (VRC) 40 at the airfield at Naval Station Guantanamo Bay. The Rawhides are transporting personnel to the aircraft carrier USS Carl Vinson (CVN 70) to support disaster relief efforts following a 7.0 magnitude earthquake in Haiti on Jan. 12, 2010. (U.S. Navy photo by Chief Mass Communication Specialist Bill Mesta/Released) INSET: C-2A Greyhound updated Communication Navigation Surveillance/Air Traffic Management (CNS/ATM) cockpit. (U.S. Navy photo)
NAVAL AIR SYSTEMS COMMAND, PATUXENT RIVER, Md. (March 04, 2010)—Within 20 hours of Fleet request, NAVAIR's Air Combat Electronics program office, PMA-209, provided updated navigational databases for a squadron of Navy C-2A Greyhound aircraft in support of Operation Unified Response, the United States military's response to the Jan. 12 Haiti earthquake.
By providing updated navigational databases in support of Fleet Logistic Support Squadron Four Zero (VRC-40)'s flights around Haiti, the PMA assisted the squadron in navigating airfields throughout the region enabling its members to safely pickup and deliver urgently needed relief supplies to earthquake survivors.
The help provided by PMA-209 made his units' job easier and more efficient, said Lt. Cmdr. Mark Litkowski, VRC-40 officer-in-charge. "With the responsive help from PMA-209, we were able to safely navigate the crowded airspace of Port-au-Prince through the use of an upgraded navigational database, integrated into the Communication Navigation Surveillance/Air Traffic Management (CNS/ATM) flight management system in our aircraft."
During its deployment to Haiti, VRC-40 carried more than one million pounds of food and water to Port-au-Prince airport and moved more than 400 doctors, nurses and other support personnel into Haiti.
Source: NAVAIR