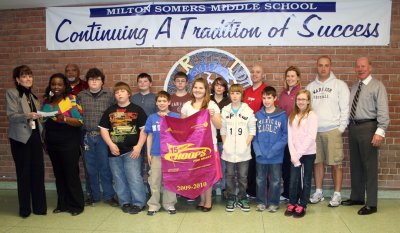 Staff and students from Milton M. Somers Middle School donated more than $1,950 to the American Heart Association through the Hoops for Heart fundraiser. Pictured, front row from left, are Somers Principal Stephanie Wesolowski, American Heart Association Youth Market Director Lisa Baynes, students Richie Howard, Stephen Lehman-Davis, Andrea Kline, Parker DeAtley, Andrew Borror and Faith Wright. Pictured, back row from left, are Charles Jamieson, Somers physical education teacher, students Lakota Purcell, Jarred Siwecki, Eric Maule and Connor Davis, and Somers teachers Andrew Norris, Julie Snavely, Eric Wittenbach and Arnold Miller. (Submitted photo)
LA PLATA, Md. (March 04, 2010)—Students at Milton M. Somers Middle School recently donated more than $1,950 to the American Heart Association's Hoops for Heart fundraiser campaign.
More than 150 students donated funds through pledge donations and school sporting events. Students with the top donations were sixth graders Andrew Borror and Parker DeAtley, and eighth graders Stephen Lehman-Davis and Lakota Purcell. The check was presented March 2 to Lisa Baynes, the Maryland youth market director for the American Heart Association.
"This school has been very consistent in doing events such as this to benefit the American Heart Association. This is important because heart disease is the number two disease affecting children under the age of 15. All of the money they raised will go to area hospitals, through grants and will provide heart disease education," Baynes said.
Last school year, Somers raised more than $1,600 through the fundraiser, which is organized by Somers physical education teacher Charles Jamieson each year.
Source: Charles County Public Schools