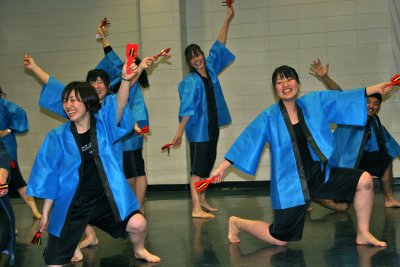 Bunkyo University student teachers, from left, Akiko Era, Saori Fukuda, Moeko Suzuki, Tamaini Shibata and Koki Ogura perform a traditional Japanese dance at a sayonara party sponsored by Bunkyo for host families and school officials. (Submitted photo)
LA PLATA, Md. (March 02, 2010)—Japanese student teacher candidates said farewell to host families and Charles County Public Schools on Feb. 25 during a sayonara party that ended a two-week educational visit.
During the sayonara party held at North Point High School, the education students from Bunkyo University provided school officials and host families with cultural performances including traditional Japanese dances, comedy, songs and a fashion show. Bunkyo University President Ohashi Yukako, who made the trip to the United States this year to celebrate the 20th anniversary of the program, said she has seen many overseas program, but none come close to the quality offered by Charles County Public Schools. Over the past 20 years, Yukako said, more than 600 students have experienced Charles County's hospitality and benefited from the intense work experience provided.
Charles County Public Schools Superintendent James E. Richmond told the students he hopes the visit provided them with information and cultural experience not available in books or the classroom. He talked about the future of the program and said as the economy improves, he hopes to expand the experience through Telepresence and more contact with students.
Started in 1987, the Japanese teacher candidates began visiting Charles County and the students attend seminars, visit classrooms and co-teach lessons. The purpose of the program is to provide the students the opportunity to identify similarities and differences between American and Japanese education; offer mini-lessons on Japanese culture and language for CCPS students; experience American family life; reflect on the relationship of American culture to practices in education; and practice English as well as for CCPS teachers and students to acquire better knowledge of Japanese language and customs. Students spend one of their two weeks living with volunteer host families from around the county.