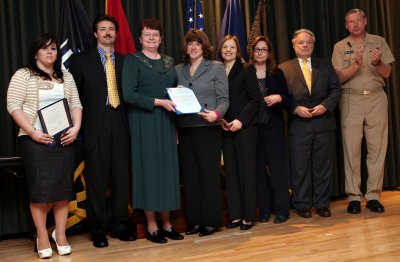 NAVSEA Commander Vice Adm. Kevin McCoy applauds the Telecommunications Audit Team after presenting them with the Total Ownership Cost Excellence Award. Team members (left to right) Juanita Brown, Rick Ballenger, Melody Belcher, Cheryl Feeser, Ann Shows, Rose Brubaker and Wayne Russell stand before the audience with Vice Adm. McCoy. (U.S. Navy photo by Laura Lakeway)
WASHINGTON (March 01, 2010)—Vice Adm. Kevin McCoy, the head of Naval Sea Systems Command (NAVSEA), presented Naval Surface Warfare Center (NSWC) Dahlgren Division's Telecommunications Audit Team with the Total Ownership Cost (TOC) Excellence Award at the Washington D.C. Navy Yard on Feb. 24.
The Telecommunications Audit Team - one of two teams honored by NAVSEA leadership for their achievements - identified a recurring cost savings of more than $300,000 annually following their audit of all existing telephone land lines at the division.
"Everything we take a look at with seriousness - whether it's an industrial process, design process, repair process, a specification, or a supply process - we find money," said McCoy during the presentation. "I want everyone at NAVSEA, from the commander on down, as a part of their day job to take on these (TOC) issues. You have a piece of helping us afford the 313-ship Navy."
As the Navy faces challenges with respect to the affordability of the Fleet, all hands at NAVSEA have been charged with an ongoing, long-term commitment to seek out ways to trim total ownership costs.
Employees throughout NAVSEA's activities and warfare centers brought a number of innovative ideas to the table during the past year toward reducing TOC. In all, more than 20 nominations - all saving or avoiding cost for the Navy - were submitted to the award committee for consideration.
"This is great continuous process improvement work that can be replicated by other commands," said Lisa Manley, NSWC Dahlgren Lab's Corporate Review and Improvement Office Head, regarding the business rules and procedures the Telecommunications Audit Team shared with Navy Warfare Center Divisions.
"Another Warfare Center Division is ready to conduct a similar audit using our methodology," said Wayne Russell, Telecommunications Audit Team Lead. "We look forward to working with commands and activities across NAVSEA who plan to initiate similar telecommunications audits that will significantly reduce their total ownership costs."
The NSWC Dahlgren Team collaborated with facility, business and telecommunications managers across the command's six departments to baseline command phone lines associated with responsible parties. Consequently, a process for adding and removing lines was developed.
Their solution identified savings of approximately 20 percent of the original annual bill by tracking all phone lines and points of contacts. In all, team members identified 1,341 phone lines out of 6,687 lines across 200 buildings for elimination.
Moreover, the Telecommunications Audit Team established clear documented guidelines to modify phone lines, which will significantly improve service and customer relations.
The LSD Midlife Air Conditioning Plant Reuse Team was also recognized for significantly reducing the cost of upgrading the shipboard cooling system capacity by utilizing a refurbished 250 ton A/C plant from a decommissioned ship instead of procuring a new unit. The team's solution has potential for expansion to other ship classes, identified procurement savings of more than $3 million, and reduced procurement time for a new unit by six months.
"Both teams' accomplishments resulted in significant, tangible benefits to the Navy," according to the Feb. 25 edition of the NAVSEA Observer newsletter. "In all, more than 20 nominations - all saving or avoiding cost for the Navy - were submitted to NAVSEA's award committee for consideration. In the fight to reduce TOC, every individual can make a difference and every little bit helps. As charged, we must continue to seek out, identify, develop and implement every opportunity to reduce cost."
In addition to the TOC Excellence Award, Vice Adm. McCoy, on behalf of NAVSEA, presented each team member with a cash award of $2,500.
Source: NSWC Dahlgren Division Corporate Communications