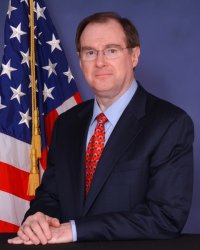 NAVAL AIR SYSTEMS COMMAND, PATUXENT RIVER, Md.—Mr. Keith Sanders has returned to Naval Air Systems Command as the new Assistant Commander for Acquisition (AIR-1.0).
Sanders was appointed to the Senior Executive Service in February 2003 and has forty-four years of civilian service with the Navy.
"I'm very happy to be back at Pax River and I'm looking forward to working with the many creative, talented people we have here," said Sanders. "I'm a believer in team work and I'll help in any way I can to make the teams here more effective in successfully completing programs that get our warfighters the things they need to complete their missions and come home safely."
Sanders serves as the Acquisition Executive for Naval Air Systems Command and executes acquisition responsibilities and management accountability for seven program management offices. He also has responsibilities as the leader of the command-wide NAVAIR Acquisition/ Program Management Competency, managing approximately 1,200 civilian and military personnel.
Sanders served as the Deputy Director for Air Warfare, Portfolio Systems Acquisition Office of the Under Secretary of Defense for Acquisition, Technology and Logistics from February 2003 until Jan. 31, 2010. In this assignment he served as the senior official responsible for oversight of acquisition programs and policy analysis associated with strategic and tactical fixed-wing aircraft, including their precision weapons and electronic warfare systems.
From February 2003 to September 2007, Sanders served in his permanent Navy position as Deputy Program Executive Officer for Strike Weapons. As deputy, he supported the Program Executive Officer in managing the acquisition and life cycle support of major strike weapons programs including Tomahawk Cruise Missile with its Weapons Control and Mission Planning Systems, Joint Standoff Weapon, Advanced Anti-Radiation Guided Missile, High speed Anti-Radiation Missile, Standoff Land Attack Missile-Extended Response and Harpoon Missile System.
In February 1996, Sanders was selected as the Deputy Program Manager for Conventional Strike Weapons where he was responsible for development, procurement and life cycle management of precision guided weapons, cartridge actuated devices and air-launched munitions like Joint Standoff Weapon, Joint Direct Attack Munition, Joint Air to Surface Standoff Missile, emergency ejection systems for aircraft and Laser Guided Bombs.
In February 1989, Sanders was recruited into the Conventional Strike Weapons Program Office to establish a Major Defense Acquisition Program developing a new family of bombs. After Desert Storm, he helped combine Navy's bomb program with an Air Force effort and led the Navy through the initiation of the Joint Direct Attack Munition (JDAM) program. After assuming the duties of Deputy for Special Programs, he led government-industry teams that streamlined Navy acquisition programs for consistency with commercial aerospace industry practices.
In October 1983, he moved to Naval Air Systems Command's Air Armament Division as the Senior Systems Engineer responsible for technical management of all 100 air-to-surface weapons and 800 emergency escape devices used on naval aircraft. For one of his efforts during that period, developing countermeasures equipment and survivability tactics for F/A-18 Aircraft, he was honored with the Special Commendation of the Canadian Forces award.
Sanders began his career with the Navy in 1971 after a brief tour with Pratt and Whitney Aircraft in Fla. From 1971 to 1983, he held several positions at the Naval Weapons Support Center, Crane, Ind., with duties ranging from aerospace engineering to the management of a branch of project managers developing countermeasures systems for aircraft and submarines.
Sanders holds a bachelor's of science degree in aeronautical engineering from Purdue University where he graduated 'summa cum laude' in 1970, and a master's of business administration from George Mason University. He is a recipient of the Secretary of Defense Exceptional Civilian Service Award in 2009, the Navy Superior Civilian Service Award in 2003 and Navy Meritorious Civilian Service Award in 1999. He and his teams have also received the Defense Department's William J. Perry Award in 2006, the National Daedalian Award in 1999 and 2004, and the Department of Defense's David Packard Award in 2001 and 2005.
Source: NAVAIR Public Affairs