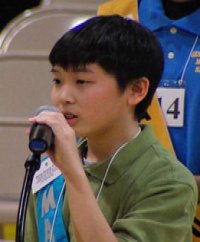 Mattawoman Middle School eighth grader Dang-Quang Tran won the 32nd annual CCPS Spelling Bee held Feb. 20. (Submitted photo)
LA PLATA, Md. (Feb. 23, 2010) - Dang-Quang Tran, an eighth-grade student at Mattawoman Middle School, won the Charles County Public Schools (CCPS) 32nd annual Spelling Bee held Feb. 20 at General Smallwood Middle School by spelling the words "
bildungsroman
" and "
pfeffernuss
" correctly.
As the county winner, Tran advances to the National Scripps Spelling Bee scheduled for May 31 through June 5 in Washington D.C. Tran won second place in last year's county competition.
Staisha Glenn, an eighth-grade student at Smallwood, earned second place. Additionally, teams from each competing school are awarded points based on student performance during each round.
Smallwood's team earned first place for their team performance. Along with Glenn, team members are eighth graders Joshua Clark, Edward Gruber, Alexis Vinson Knott, and sixth grader Jordan Johnson. Team coach is Maria Arevalo, a language arts teacher at Smallwood. As first-place winners, the Smallwood team was awarded a special plaque to display in the school.
Mattawoman's team earned second place. Along with Tran, team members are eighth graders Hezekiah Corbin and Erik Hankins, seventh grader Kylie Green and sixth grader Brianna Purnell. Team coach is Nina Hargis, a language arts teacher at Mattawoman.
The team from Archbishop Neale School earned third place. Team members are eighth grader Abby Carpentier, seventh graders Caroline Weirich and Patrick Donnelly, and sixth graders Lauren Petruskie and Maria Valdisera. Team coaches are Brenda Simpson and Susan Vogel.
Matthew Henson Middle School's team earned fourth place. Team members are eighth graders Aaron LeBeau, Amanda Lee, Robert Weaver and Danielle Jackson, and seventh grader Logan Cebrzynski. Team coaches are Lynn Nathan, Henson gifted education resource teacher, and Debbie Holder, Henson language arts teacher.
The spelling bee is sponsored by CCPS, the College of Southern Maryland, the Maryland Independent, Southern Maryland Electric Cooperative, Inc. and Chaney Enterprises.