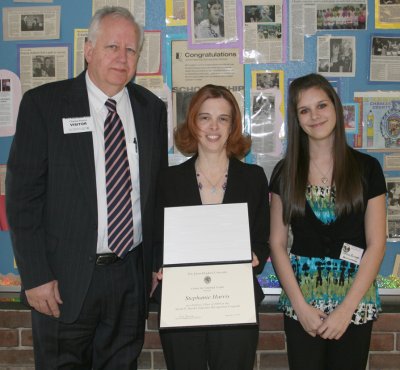 Milton M. Somers Middle School language arts teacher Stephanie Harris, pictured center, receives a John Hopkins Center for Talented Youth Sarah D. Barder Fellow recognition certificate from Charles Rowins, deputy to the executive director, pictured left. Harris was nominated for recognition through the CTY program by Somers eighth grader Jessica Burroughs, pictured right. (Submitted photo)
LA PLATA, Md. (Feb. 22, 2010)—Stephanie Harris, a seventh-grade language arts teacher at Milton M. Somers Middle School in La Plata, was recently honored by the Johns Hopkins University Center for Talented Youth (CTY) Sarah D. Barder (SDB) Fellowship program.
Harris was chosen as an SDB Fellow and joins more than 20 educators nationwide in the 2009 program, which recognizes outstanding teachers who are nominated by students for recognition. Harris was nominated by Somers eighth grader Jessica Burroughs, who submitted a nomination essay and said that Harris was the best role model a student could ask for.
"She is the one person who truly pushed me into doing better than what I thought was possible of myself. Her belief in me is what made me finally achieve an A in her class. The best thing is that I know her door is always open, ready to help yet again. It would be an understatement to call her my hero," Burroughs wrote in her nomination letter.
Hopkins CTY programs focus on students with exceptionally high academic capabilities, and offer gifted students opportunities for educational enhancement, peer interaction, and personal development. Each year, students in grades 6 through 12 who attend one of the CTY programs are invited to nominate a teacher for recognition as an outstanding educator.
"Being nominated for recognition by one of my students is a great honor. My goal in teaching is to make a difference in the lives of my students. Jessica's nomination and essay has encouraged me and deeply touched me. I teach to make a difference and this recognition is a tangible example of that. Knowing that I am only one of 15 teachers selected to be a CTY fellow is a humbling and exciting distinction and honor," Harris said.
Charles Rowins, deputy to the executive director of Hopkins CTY program, presented Harris with a recognition certificate on Feb. 4 during a Somers staff meeting. Harris' parents were also present.
A committee reviews nominations and selects 15 to 20 teachers for recognition. As a SDB Fellow, Harris will receive an all expenses paid trip to the annual SDB conference, as well as $500 to be used for classroom materials.
Harris has been teaching language arts at Somers for more than 10 years and serves as the seventh-grade team leader. She holds a bachelors of science in elementary education from Salisbury University.
Source: Charles County Public School System