ANNAPOLIS (Feb. 22, 2010) — Maryland deer hunters harvested over 100,000 deer for the second time since modern deer management began in the early 1900s. Surpassing this numerical milestone is consistent with the Department's goals to reduce or stabilize deer numbers in most of the state. The record 100,663 deer taken during the 2009-2010 deer season barely surpassed the previous record of 100,437 deer set last year.
Hunters reported 33,761 antlered deer (1,115 sika deer) for the 2009-2010 season, a three percent decrease from last year. In contrast, the antlerless harvest increased two percent to 66,902 deer (1,267 sika deer) this year.
"Our survey information confirms that deer hunters have spent more time in the woods over the past two seasons, a trend we attribute in part to the slow economy," said DNR Deer Project Leader Brian Eyler. "The increased effort has resulted in more healthy and sustainable venison being put in the freezer and is consistent with our efforts to manage the deer population."
In Deer Management Region A (Garrett and Allegany counties), hunters reported 9,430 deer this year, a five percent decrease from the 2008-2009 total. The antlered harvest decreased eight percent to 4,964 deer this year, while the antlerless harvest of 4,466 deer was down one percent. Region A hunters continue to harvest good numbers of antlerless deer due to the additional day of antlerless firearm hunting on private lands that was added in 2008. The extra day was provided at the request of landowners in the region who wanted more opportunities to effectively manage deer numbers on their land.
The reported deer harvest in the remainder of the state (Region B) was relatively consistent for most counties. Hunters in Region B reported taking 91,233 deer for the year. The antlered harvest of 28,797 deer was two percent lower than last year, while the antlerless harvest increased two percent to 62,436 deer. Washington County once again led the harvest totals with 8,587 deer, followed by Frederick County with 8,447 and Baltimore County with 6,752 deer.
The deer harvest in Maryland's suburban counties (Anne Arundel, Baltimore, Howard, Montgomery, and Prince George's counties) continues to be strong. Hunters in these counties reported 21,231 deer for 2009-2010; up one percent over last year. DNR has liberalized antlerless harvest regulations in these counties in an effort to address the impacts that high deer populations have on Maryland's suburban landscape and residents.
"Controlling the deer population in the suburban areas of the state is a challenging task. Fortunately, Maryland's hunters have taken advantage of the liberalized antlerless deer hunting opportunities in these areas," said Wildlife and Heritage Service Director Paul Peditto. "Without their efforts, deer management in the suburban areas would be much more difficult."
Deer harvest results by county are available in the table below (click image for larger rendition).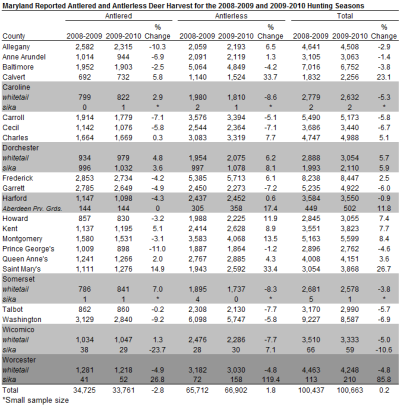 Source: Maryland Department of Natural Resources (DNR)