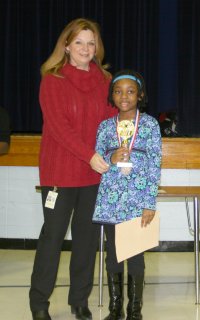 Jennifer Abell, right, director of the March of Dimes of Southern Maryland, present Arthur Middleton Elementary School second grader Joelle Starling, left, with a trophy in recognition for raising more than $1,000 in the Reading Champions fundraiser. (Submitted photo)
LA PLATA, Md. (Feb. 09, 2010)—Students at Arthur Middleton Elementary School recently raised more than $1,340 through the March of Dimes Reading Champions monthlong book-reading fundraiser.
Students across all grade levels participated in the fundraiser, in which students receive donations from sponsors based on the number of pages and books they read. Medals were awarded to students who read the highest number of books and raised the most money in donations.
Second grader Joelle Starling read more than 30 books and raised nearly $1,026. Jennifer Abell, director of the March of Dimes of Southern Maryland, presented Starling with a medal and trophy in recognition for her fundraising efforts. Additional students received medals for high participation.
Eight students received gold medals for reading 20 books or more. They are: Deja Osbey; Jaeden Robinson, second grade; Jacob Harty, second grade; Ali Ramamni, second grade; Garrett Boyett, third grade; Shania Williams, second grade; Bianca Mendoza, fourth grade; and Kyle Smith, fourth grade.
Fourth grader Victoria Mims was awarded a bronze medal for reading 10 books or less, and third grader Bradley Krakowitz was awarded a silver medal for reading between 11 and 19 books.
Each year, students in Charles County public elementary schools participate in the fundraiser to support the March of Dimes efforts.
The mission of the March of Dimes, a non-profit organization, is to improve the health of babies by preventing birth defects, premature birth and infant mortality.
Source: Charles County Public School System