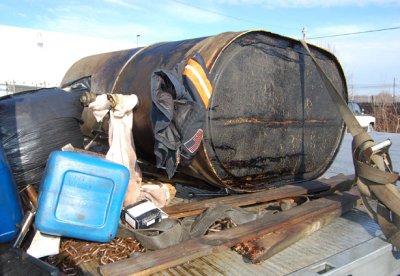 This stolen heating oil tank was recovered by Charles County Sheriff's Officers. (Photo: CCSO)
LA PLATA, Md. (Jan. 23, 2010) - The Charles County Sheriff's Office issued an alert to citizens to be extra observant of activity near heating oil tanks after officers responded to calls in which heating oil was stolen from businesses and homes.
Detectives believe the suspects are driving their vehicles—probably large trucks or flatbeds—directly to the tanks and siphoning several gallons of oil—just enough to minimize immediate detection—before moving on to another tank. It appears the suspects put the oil in large barrels or drums and later sell the oil at a discount rate or use it for personal use.
On January 8, officers were advised of multiple thefts of oil from businesses in the Pinefield North Shopping Center located at 12562 Mattawoman Drive in Waldorf. It was later determined, based on fuel analysis, the thefts occurred between December 3 - December 17, 2009. Oil was also stolen from two area churches. Typically, the thefts are not noticed right away because the suspects are stealing just a few gallons from each tank.
On January 11, officers stopped the driver of a flatbed truck after noting the truck matched the description of a vehicle that was used to steal an oil tank from a home in a neighboring county. Upon inspecting the bed of the truck, officers discovered an entire oil tank. The driver and occupant were detained and charges are pending. Detectives are trying to determine if the two men could be responsible for the local thefts as well.
Although locking mechanisms on the caps of the oil tanks may deter a thief, it is difficult to prevent the tanks from being stolen. Consider screening your tank with fencing or hedges; concealing external pipe work; and installing security lighting. The Sheriff's Office is reminding citizens to call the Sheriff's Office immediately to report an unusual activity near oil tanks.
Source: Charles County Sheriff's Office