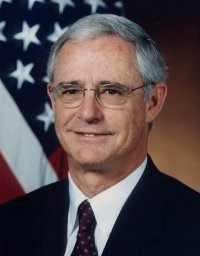 Jacques S. Gansler will present a lecture, "Issues in Defense Acquisition for the Obama Administration," at St. Mary's College of Maryland Thursday, January 28, at 5 p.m. in Cole Cinema.
ST. MARY'S CITY, Md. (Jan. 23, 2010) — Jacques S. Gansler, former undersecretary of the Defense Department, will talk about the "Issues in Defense Acquisition for the Obama Administration," at St. Mary's College of Maryland (SMCM) Thursday, January 28, at 5 p.m. in Cole Cinema in the Campus Center. Gansler is a professor at the University of Maryland. The Patuxent Partnership and the Center for the Study of Democracy at St. Mary's will co-sponsor the event.
"I am excited to host Dr. Gansler here at St. Mary's College," said Michael Cain, director for the Center for the Study of Democracy. "Each year we try to host an important policy analyst from the defense community that attracts our friends in the NAVAIR community. His work on defense issues is well known throughout academic and policy circles. I expect him to raise some important issues facing the Obama administration."
Added Bonnie Green, executive director for the Patuxent Partnership, "Dr. Gansler's expertise and experience is extraordinary and is well known. This will be a very special opportunity for the Southern Maryland community to hear his thoughts on the future of acquisition and defense contracting."
Gansler holds the Roger C. Lipitz Chair in Public Policy and Private Enterprise in the University of Maryland School of Public Policy, and is the director of both the Center for Public Policy and Private Enterprise and the Sloan Biotechnology Industry Center. Additionally, he is the Glenn L. Martin Institute Fellow of Engineering at the A. James Clarke School of Engineering, an affiliate faculty member at the Robert H. Smith School of Business and a senior fellow at the James MacGregor Burns Academy of Leadership. He also served as interim Dean of the School of Public Policy from 2003 to 2004, and as the Vice President for Research for the University of Maryland from 2004-2006.
He is a member of the National Academy of Engineering and a fellow of the National Academy of Public Administration. He has chaired various National Academy Committees regarding the defense industry and engineering.
Gansler was undersecretary of Defense for acquisition, technology and logistics from 1997 - 2001. Prior to this appointment, Gansler was executive vice president and corporate director for TASC, an applied information technology company, in Arlington, Virginia. Additionally, Gansler was a visiting scholar at the Kennedy School of Government, Harvard University, and author of three books.
Gansler received a Ph.D. in economics from American University and masters' degrees from Northeastern University and the New School for Social Research.
The Patuxent Partnership (TPP), a non-profit organization with over 300 members, advocates for the growth of the Southern Maryland technology base. TPP encourages relationships between government, industry, and academia by hosting briefings on relevant topics. As a membership organization, TPP offers informational resources and programs, and facilitates professional connections. TPP promotes career and professional development initiatives for working adults, along with promoting initiatives targeted at developing science, technology, engineering and math interests in schoolchildren. TPP also supports workforce retention initiatives and regional and cultural events which encourage community engagement and workforce satisfaction.
The Center for the Study of Democracy is a joint initiative of St. Mary's College of Maryland and its affiliated institution, Historic St. Mary's City. It explores contemporary and historical issues associated with democracy and liberty in national and international contexts. The center provides a forum for presentations by government officials, journalists and scholars; publishes scholarly writing on subjects of civil governance; encourages and supports public participation in political processes; and engages undergraduate studies in study and research on related subjects.
The sponsors strongly urge interested attendees to register online in advance to assist in managing seating by visiting
http://paxpartnership.org/
and selecting the link to the program registration. The presentation is free and open to the public.