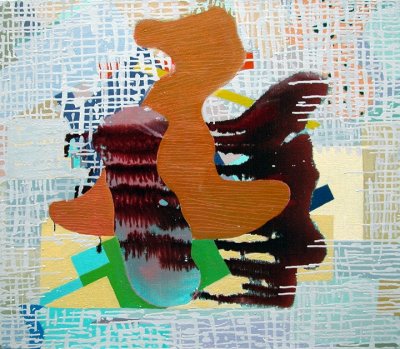 A piece by New York artist Cecily Kahn.
ST. MARY'S CITY, Md. (Jan. 22, 2010) — The works of painter Cecily Kahn, St. Mary's College of Maryland (SMCM) artist-in-residence, are inspired by her loft view of one of Manhattan's busiest intersections, Canal and Broadway. "My work has always reflected the angularity and organic chaos of city life," she said. Kahn will talk about her art at 4:45 p.m. Monday, January 25, in room 321 of the college's library.
A native New Yorker, Kahn received a bachelor of fine arts degree from The Rhode Island School of Design, and went on to study printmaking in Italy for two years at the Calcographia Nazionale in Rome and the Segnio Graphica in Venice. Her work has been exhibited in U.S. and European galleries.
"I like working with opposites: flat and receding space, thin and thick paint, hard edge and ephemeral veils, and drips in all directions," Kahn said, describing her painting. "Paint surfaces are explored by using various mediums to thin the paint or thicken it to impasto. I use color and form in both the automatic process of spilling and in careful formal decision-making."
SMCM's Artist House is an artist-in-residence program for creative artists and writers with two goals: 1) to offer them the time and space to create new work and 2) to develop programming so they can share their work with the campus and local communities. This talk is free and open to the public.