Suspect May be Linked to Bank Robberies throughout Region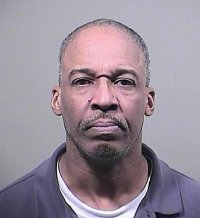 Earl Macvernon Pegram, 56, of Clinton, was arrested and charged in connection with the January 19 robbery of the M & T Bank on Mall Circle Drive. (Arrest photo)
LA PLATA, Md. (Jan. 22, 2010) - Charles County Sheriff Rex W. Coffey said detectives from the sheriff's office identified and charged Earl Macvernon Pegram, 56, of Clinton, in connection with the January 19 robbery of the M & T Bank on Mall Circle Drive.
Pegram was arrested on January 21 by members of the Charles County Sheriff's Office, US Marshals Office, Prince George's County Police Department and other law enforcement agencies at a residence in Temple Hills. Search warrants were executed at two addresses affiliated with Pegram where detectives recovered evidence linking him to multiple robberies throughout the region, including the December 22 robbery of the Old Line Center Bank located at 12080 Old Line Centre in Waldorf. His method of operation was similar in almost every case: he would enter a bank, approach a teller, imply he had a weapon and demand money. No one was injured.
Since October 2009, there were a total eight bank robberies in Maryland and Virginia in which the same suspect was believed to be involved. A task force investigation identified Pegram as a possible suspect. He was positively identified following the robbery at M&T Bank. Pegram was charged with robbery and remanded to the Charles County Detention Center with a $50,000 bond. The investigation is continuing.
Source: Charles County Sheriff's Office