By GRAHAM MOOMAW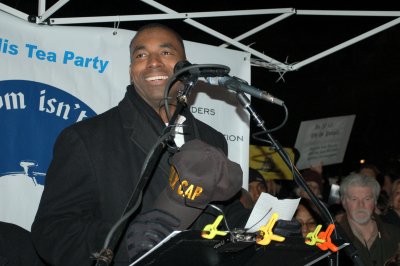 Charles Lollar, a local businessman and Major in the United States Marine Corps Reserves who hopes to run against Steny Hoyer in 2010 for the 5th District Congressional seat, speaks at a Tea Party rally outside the State House in Annapolis on Wednesday. (Photo: Graham Moomaw, Capital News Service)
ANNAPOLIS (Jan. 16, 2010) - It didn't take much for Charles Lollar to fire up the audience as one of the first speakers at Wednesday's Tea Party rally in Annapolis.
"Believe it or not, I'm running against Steny Hoyer," Lollar said to a crowd of several hundred cheering conservatives gathered outside the State House as part of the national Tea Party movement, which protests high taxes and government overspending.
Lollar, whose most recent political position was the chairmanship of the Charles County Republican Central Committee, is hoping to translate his Tea Party stardom into a serious run for Congress against House Majority Leader Steny Hoyer, D-Mechanicsville, in Maryland's 5th Congressional District.
Lollar, who is black, joked about his race by jabbing at another key Democratic leader.
"Be sure not to let (Senate Majority Leader) Harry Reid hear this because I'm a dark-complected black American," Lollar said, referring to Reid's recently disclosed racial remarks about President Obama. "So he might not think I have a chance to win, but we've got news for him, don't we?"
The bravado of his speeches belies the difficulty of his task.
Hoyer is a well-funded and firmly entrenched incumbent who carried the strongly Democratic district with almost 75 percent of the vote in 2008. Democrats outnumber Republicans in the district by a more than 2-1 ratio. The advantage stems mostly from strong Democratic support in populous Prince George's County, while Anne Arundel, Calvert, St. Mary's, and Charles Counties are more evenly divided.
A safe Democratic district and Hoyer's influential position among the Democratic leadership in the House make him a virtual shoo-in for a 16th straight electoral victory.
Lollar says he sees signs of Hoyer's vulnerability in the boos at town-hall meetings and Hoyer's "flip-flopping" on the public option during the health care reform debate.
"He's very touchable and very vulnerable," Lollar said in an interview.
Lollar opposes many big-ticket items on the Democratic agenda that Hoyer helps shape. He's against the health care reform bill, against cap-and-trade climate legislation and against the idea of government-imposed limits on executive pay. He's opposed to entitlement programs and bailouts, both of which he said "call people to depend on the taxpaying dollars of others instead of encouraging people to work for themselves."
Lollar sees Hoyer as a career politician who has grown comfortable with the idea of intrusive government and big spending.
"In our district more than others, we have an elected official who really feels the need to get more and more government in our lives," Lollar said. "I see someone who's been willing to blend in for years and paint himself as a moderate Democrat, when in all actuality, he's nothing more than a tax-and-spend liberal."
Lollar, 38, was an active-duty Marine for seven years before going into the business world. He's now a general manager at Cintas Corp., a uniform company with a location in Landover. He lives in Newburg with his wife, Rosha, and their four daughters.
Charles Lollar speaking at the Solomons Isand Tea Party Rally on March 22, 2009.
His speech at Wednesday's rally in Annapolis was the latest in a string of Tea Party appearances across the state. He also earned a speaking slot at the "9/12 Tea Party" rally in the District last September that drew thousands of protesters from across the country. But he's quick to criticize the shrill tone and personal attacks that have characterized the Tea Party movement, saying the conversation should focus instead on policy and the proper role of government.
"And we can say these things without being threatening and without being abusive and without throwing mud. It doesn't mean you make these nasty pictures and make people look like Adolf Hitler," Lollar said at a fundraising event in the fall. "We have to understand, as conservatives, as Republicans, we have the answer. But how we package it is terrible."
The Lollar campaign was hoping to raise $500,000 by Jan. 1 of this year, but those expectations have required some tweaking. Jason Herzberger, the campaign's finance director, said that the plan was to raise around 80 percent of that amount through a December "moneybomb" event, an online fundraising technique that encourages a burst of donations during a fixed amount of time.
Herzberger said the campaign decided to delay the moneybomb until after the holidays. It's now tentatively scheduled to take place in the beginning of February.
"If we raise between $1.5 (million) to 2 million, we're going to win this race," said Lollar. The latest figures available from last fall show Lollar had just $22,508, but he hadn't begun fundraising.
The Hoyer campaign, which had $1.8 million last fall, declined to comment specifically about Lollar. A spokeswoman for the campaign said in an email that Hoyer is staying focused on getting the economy back on track.
Michael Cain, the director of the Center for the Study of Democracy at St. Mary's College, said there are a few additional things that have to happen in order for Lollar to have a chance against Hoyer. There has to be a Republican surge nationally, Democratic voter turnout has to be low and Lollar has to win over a large number of swing voters.
"Without independents and Democrats, there's no way he can beat him," said Cain.
Despite the steep hill to climb, Cain said Lollar will likely be a stronger candidate than Hoyer has faced in recent elections.
"This is the first serious challenger Steny Hoyer has had in a while," said Cain. "He'll probably give him a run for his money."
The Republican primary in September is shaping up to be a battle among friends. Lollar will go up against Collins Bailey, a self-employed lumber broker from Waldorf who lost to Hoyer in the 2008 election. During that cycle, Lollar worked with Bailey as his campaign manager.
"I told him, 'Come on in, the water's fine,'" said Bailey.
No matter which Republican emerges to take up the challenge of running against Hoyer, Bailey said, the most important thing is to give the voters a choice.
"I think that the American people are awake and dissatisfied," said Bailey. "I don't think it's a safe seat anymore."
Capital News Service contributed to this report.
RELATED INFORMATION:
Lollar Campaign Website
http://www.lollarforcongress.com/
Facebook Group: Draft Charles Lollar: A Maryland Leader We Can Trust
http://www.facebook.com/group.php?gid=82547825917